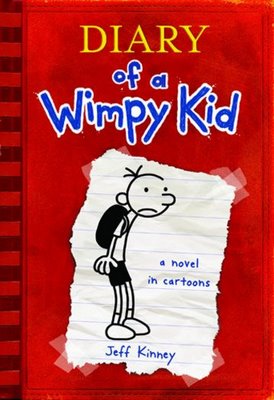 "You can hide that, right?" principals will earnestly inquire.
"Ugh, I hate that book!" many teachers will say while swiping through the LightSail library.
I get it, I do. I, too, was once a Diary of a Wimpy Kid hater. I recall standing in a 7th grade classroom and singling out a student who was reading Diary of a Wimpy Kid. "Noel," I chided, "seriously? You're reading Diary of a Wimpy Kid? That's a third grade title. Pick a different book."
I felt good about the example I was setting. I was a champion of rigor. I was going to make sure that Noel became a better reader because he was going to read a more "appropriate" book. Right?
Wrong. Dead wrong. What happened instead is that Noel picked a different book, but he didn't read it; nor did he read anything else for the remainder of the school year.
That failure was in my mind when I sidled up next to a struggling 6th grade reader to model a conference for a group of teachers. The student was engrossed in Diary of a Wimpy Kid, and I groaned inwardly, but with an audience watching, the show had to go on. He read for us, then I started the conference.
Me: What do you like about this book?
Student: It's really funny.
Me: When did you start reading this book?
Student: Yesterday.
Me: Wow, you've gotten pretty far in just two days.
Student: I don't want to stop reading.
Me: Do you usually feel that way about the books you're reading?
Student: This is the only book I've felt that way about.
It dawned on me then and there that I had completely ignored the power of Diary of a Wimpy Kid to transform students who don't self identify as readers into students who find reading so pleasurable that they just can't stop. [1]
The power of Diary of a Wimpy Kid extends beyond turning students into passionate readers. In another middle school a subway ride away, Jordan shared with me the story he was working on, the most writing I'd seen Jordan produce all school year, inspired by the book he was reading – Diary of a Wimpy Kid. Getting a student who hates writing to complete piece that they are proud of begins to build writing competencies and a writing identity. This then creates more motivation to write more.
Using LightSail, struggling high school students who once slept their way through independent reading whip through Diary of a Wimpy Kid, all while making annotations and answering assessment questions. Note to skeptics who are thinking, sure, and the comics are pretty easy to breeze through, too: Each Diary of a Wimpy Kid's Lexile measure, determined by complexity of sentence structure and vocabulary, hovers in the 1000L range. Diary of a Wimpy Kid is deceptively "complex."
Then the trick becomes channeling all the wonderful work Diary of a Wimpy Kid has done toward the next book. For the student who loves Diary of a Wimpy Kid, LightSail would encourage the following trajectory of titles: Sherman Alexie's The Absolutely True Diary of a Part- Time Indian (if in middle or high school) or Neil Gaiman's Fortunately, the Milk (any grade level) to Neil Gaiman's The Graveyard Book to Markus Zusak's The Book Thief.
This takes into account the drawings and humor that get kids hooked on Diary of a Wimpy Kid, but leverages these features to gradually introduce text that is more dense; characters and plots that are more layered and complex; different genres (fantasy, mystery/suspense and historical fiction); and tricky structural elements. And the icing on the cake? The Book Thief is a Common Core Appendix B title. (PS: All of the aforementioned titles have lower Lexiles than Diary of a Wimpy Kid, but we will save the qualitative versus quantitative debate for another blog post.)
So let's stop hating and instead recognize that Diary of a Wimpy Kid offers an irresistible pathway toward complex texts for readers who might never read a "Common Core" text of their own volition. And admit it, people, it's absolutely hilarious.
---
[1] Allington, R. L., & Gabriel, R. E. (2012). Every child, every day. Reading, 69(6), 10-15.