We have some exciting news for you! We have four new and exciting Antares series that we're adding final touches to. That's 40 new books! As soon as they're officially ready to go live we'll let you know.

The whole LightSail team would like to wish everyone a Happy Chinese New Year! The beginning of the Chinese New Year is celebrated with the Spring Festival. The first day of the Chinese New Year begins on the new moon that appears between 21 January and 20 February. This year the new moon appears on 05 February, initiating the Year of the Pig. There are twelve zodiac animals on the Chinese calendar: the rat, ox, tiger, rabbit, dragon, snake, horse, goat, monkey, rooster, dog and, finally, the pig.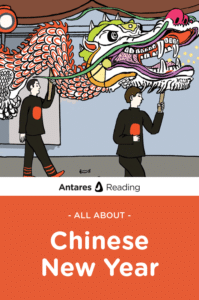 Myth has it that the Jade Emperor said that the order of the animals on the zodiac would be decided by the order in which the animals arrived at his party. The pig was last to arrive. This was either because he overslept, or he had to rebuild his house first, which a wolf destroyed. The version you believe is up to you! Did you know, pigs are a symbol of wealth and their chubby faces and big ears are signs of fortune?
Learn more about the Chinese New Year by reading our Antares title: All About Chinese New Year.
Teacher Tip: Teachers, this is the perfect title to instantly assign to an individual student, small group or whole class. Select the text in your library and tap the "Assign Text" button, choose your students, and tap "Assign."
We wish you a prosperous year ahead. Till then, stay amazing.
LightSail