Women's History Month may be over, however that doesn't mean that our learning about influential women should end. Let's be honest, our world would not go round without the help of the amazing, hard working, history changing women we all know and love.
Celebrate and educate students about influential women throughout history using our Rosen-LightSail Women's History themed books at all levels! From astronauts, to nurses, activists, inventors and poets, we can help support your classroom curriculum.
We know that teachers have busy schedules, so we took the time to collect many books from our platform that are themed around powerful women.
Teacher Tip: Use these books to complete a full class Jigsaw! This will guide students to read one biography, become an expert on this woman, and then learn about many others from their classmates! If you aren't familiar with the Jigsaw technique – no problem. We will walk you through it here.
First, here are the special, handpicked Women's History books that you can find in our Rosen-LightSail Platform: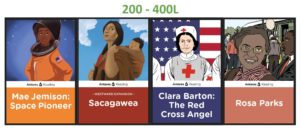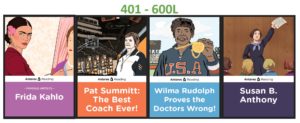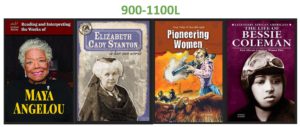 Class Jigsaw Activity themed around Women's History (split up into 2 sessions):
Before Session 1: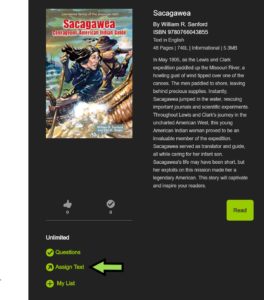 First, choose 5 or 6 Women's History texts to focus on at a variety of Lexile levels

Next, create 5 or 6 equal sized 'Expert' groups of students, each group within the same Power Text band (within 200 Lexile points)

Use our Assign Text tool to assign a chosen Women's History text that is within the Power Text band of each group

Don't forget to print the Women's History Record Sheet:

HERE
Before Session 2:
Ensure that all students have completed their record sheet

Create 5 or 6 'Teaching' groups for Session 2, ensuring that each group has one member from each of the 'Expert' groups
Session 1:
Explain the learning intentions for today and why learning about international influential women is so important

Review and hand out Women's History Record Sheet for students to fill out as they read

Have students login to their Rosen-LightSail account and find the assigned text under 'Now Reading' on their Dashboard

Lastly, give students 30-40 minutes to read the Rosen-LightSail text and fill out the record sheet
Session 2:
Begin with having students meet with their 'Expert' group to ensure that every member has the correct information on their Women's History Record Sheet

Those that need to add or revise their notes, may do so now

Next, have students arrange themselves into the 'Teaching' groups – ensuring that at least one member of each 'Expert' group is present in every 'Teaching' group.

Set up circle 'Teaching' protocol:

Example: each student gets 2 uninterrupted minutes to share, and then 1 minutes for questions

Give enough time for all students to share and ask questions

Finally, come back together and discuss the importance of these influential women and how they have positively impacted history!
We hope that your students learned a little about each famous woman! Please reach out to your Instructional Coach for further teaching tips. Remember, we are all part of this Learning Community. In the words of Helen Keller, "Alone we can do so little, together we can do much." It's fun to share ideas and work together to better our instruction!
Looking ahead, April is National Poetry Month. We will be sharing texts and teacher tips that will support your poetry curriculum! Please stay tuned!
Featured Image Attribute: Photo by Ben White on Unsplash