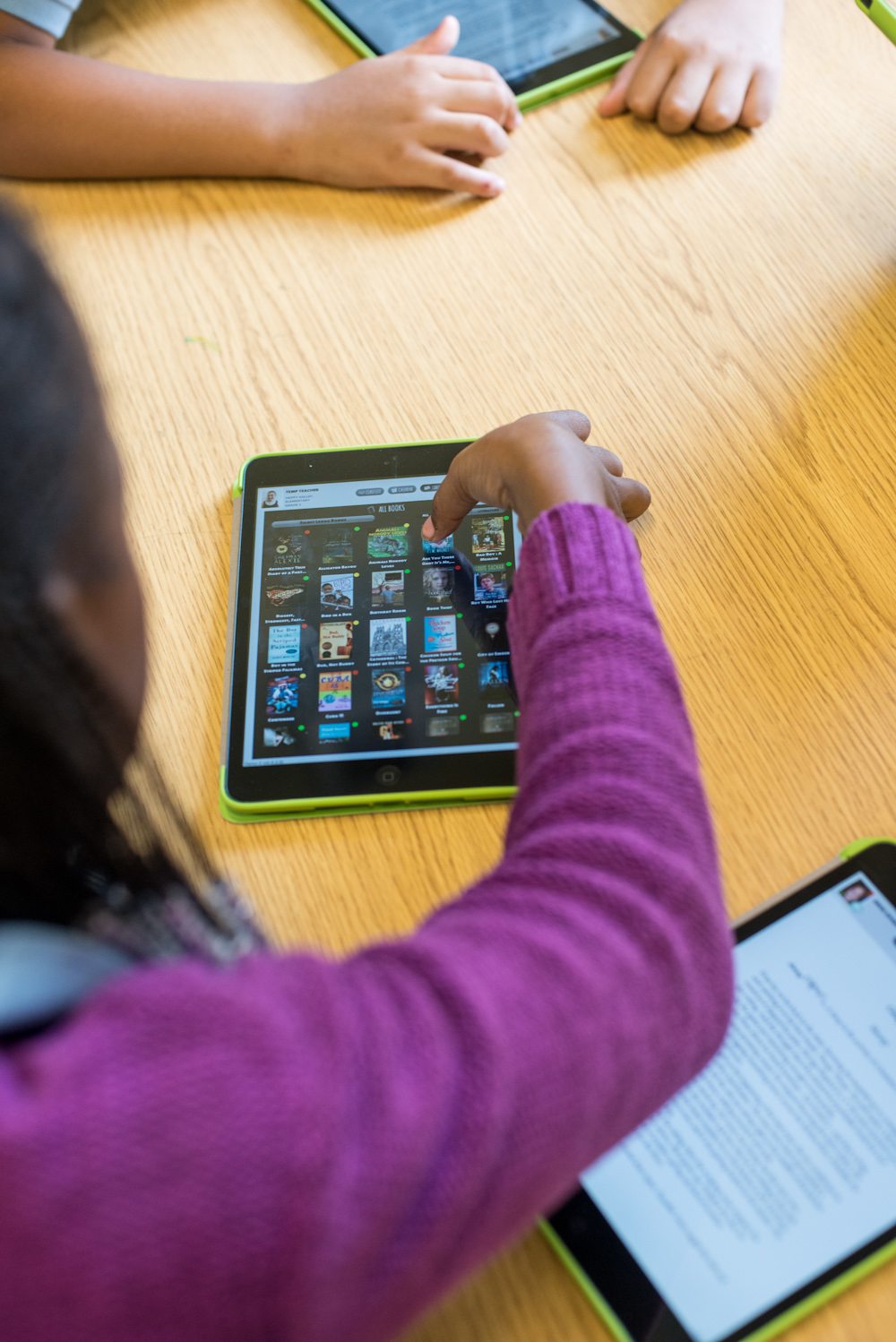 As classroom teachers, we've all had "that student": the one that questions everything you say; the one that doesn't like writing; the one that makes you do a little cartwheel inside when they're absent… although this student never is, of course.
A few years ago, my "that student" – let's call him Sean – also hated reading. According to Sean, book covers all looked dull and boring, or too babyish, or were meant for girls. I made it my mission that year to help Sean see the joy that reading could bring. When his mom approached me for suggestions, I said, knowing how much Sean loved video games, "Why not try an electronic tablet?" She seemed hesitant at this idea, but agreed to consider it.
After winter break, Sean came running into our classroom and proudly presented me with his shiny new Kindle.
"Isn't this cool?" he excitedly asked his classmates.
"I read five books over break!" he boasted.
"Do you want to read with me during DEAR time?" he sweetly asked me.
A spark had been ignited in Sean that day, and every day that week, I read side by side with him. At the end of one of our sessions, I turned and asked him what had suddenly spurred this new love. Sean told me that he loved reading on an electronic tablet. "No one knows what I'm reading and can make fun of me," he said. He also shared that his mom had loaded the tablet with a number of books that he'd expressed interest in. "I'm excited to finish a book, because I know I have another one to read as soon as I'm ready." Sean started a movement in my classroom, and before I knew it, all of my students were reading on tablets of some kind.
Teachers everywhere are turning students onto reading using new technology tools. When I first learned about LightSail, I was struck by their focus on quality content. Coming from the classroom, I knew what a difference a strong library could make for students. LightSail offers students a mecca of the most engaging content – the texts they actually want to read!
What I love most about the digital library offered through LightSail is the personalization that it offers every reader: Students are presented with books at their unique "just-right" levels, and the library continuously adapts as reading levels grow. LightSail is able to scaffold kids to ensure they are exposed to captivating books that are appropriately complex to keep them growing as readers. [1]
Some debate paper books vs. digital books: Which library type makes the most sense for schools? Those on both sides can argue their perspective with a reverence that brings us back to Team Edward or Team Jacob, N'SYNC or Backstreet Boys. While they both have their place in our society, I'm here to tell you, digital is where it's at for schools!
When you place a tablet in the hands of a young reader, you're putting an entire library at their fingertips! Books are preserved from year to year, and teachers never run out of shelf space for the latest and greatest, alongside the dearly loved classics. How many times have teachers heard, "I can't read today because I left my book at home"? Digital libraries eliminate that excuse and the rest of logistical challenges that come with paper books.
Administrators are discovering the economic benefits of an e-library. Digital books last forever; their pages are literally indestructible. Many e-books can even be shared by hundreds of students at one time, and ebooks can be shared between classrooms and even school buildings. While some digital books can be more expensive to purchase at the outset, schools find the medium-term benefit is clear.
Engaged students, game-changing personalization tools like LightSail, economic benefits… the list of benefits of ebook libraries goes on!
---
[1] Grigg, W. S., Daane, M. C., Jin, Y., & Campbell, J. R. (2003). The Nation's Report Card: Reading, 2002