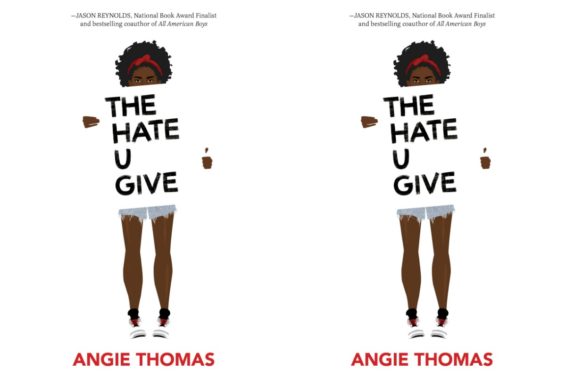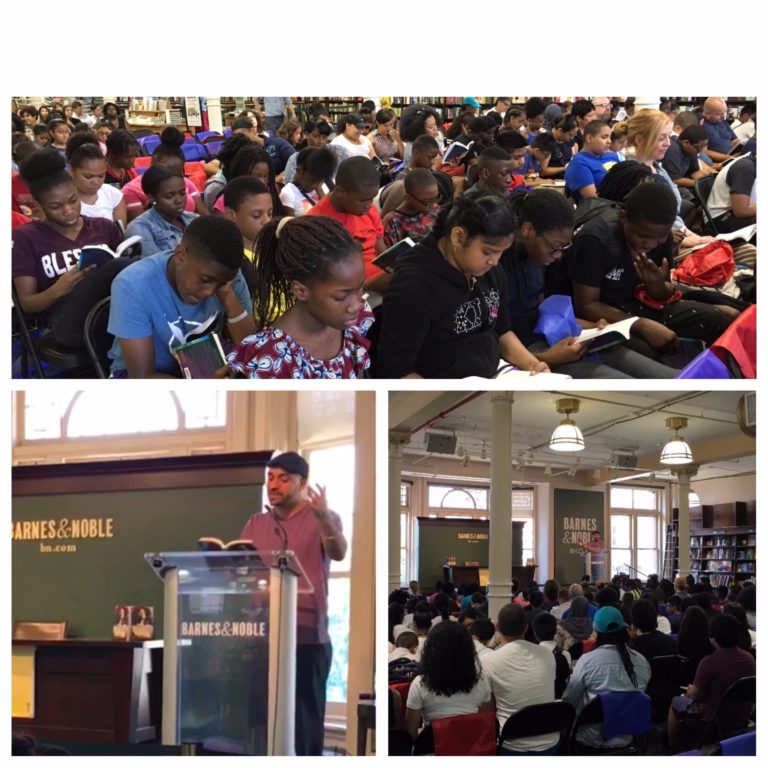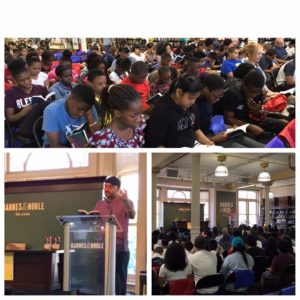 Daniel José Older grew up as an avid reader of sci-fi and fantasy books. After years as a dedicated fan of the genre – one populated primarily with white characters – he grew tired of never "seeing himself" in the stories he loved, and decided to change that for the next generation. Today, Older is the author of Young Adult series The Shadowshaper Cypher, urban fantasy series The Bone Street Rumba, and the upcoming middle grade sci-fi adventure, Flood City.
When Older spoke to a group over 100 LightSail readers at the annual SummerSail NYC celebration, he talked about the importance of identity in art and literature and encouraged students to tell their stories. We couldn't agree more, which is why LightSail invested in adding a selection of new, exciting, and diverse content to our library offerings for the upcoming school year. Some of our favorites are highlighted below:
The Hate U Give by Angie Thomas (590L):

In this poignant novel by author Ange Thomas, the protagonist Starr Carter navigates two worlds: her poor home neighborhood and the fancy prep school that she attends. Everything changes for Starr when she witnesses something that is all too common for young men and women of color in the United States of America. How will Starr navigate this tense social and political time?

The Star-Touched Queen by Roshani Chokshi (700L):

In

Roshani Chokshi

's breakout novel, we dive head first into the world of Indian myth and legend. This strong, female centered novel follows Maya – cursed from birth – as she uncovers the secrets of Akaran and herself.

Camo Girl by Kekla Magoon (600L):

Set in the Las Vegas suburbs, this book by Kekla Magoon tackles two age-old struggles of young-adulthood: identity and popularity. How does Ella navigate being the only black girl in school (and a nerd to boot) when a new, and extremely popular, black boy named Bailey joins her class and wants her to abandon her best (and extremely weird) friend?

Totally Joe by James Howe (850L):

Author James Howe takes us through the life, struggles, lessons and coming out of Joe Bunch via his assignment to write an "alpha-biography" — essentially the story of his life from A to Z. Through this journey, Joe begins to understand himself and the way he fits into his school, family, and group of friends.

The Night Parade by Kathryn Tanquary (760L):

Saki Yamamoto has to spend her summer in her grandmother's ancestral village instead of the faced-paced city of Tokyo with her "friends". In

Kathryn Tanquary

's standout novel – which

mixes Japanese folklore and teen angst

– Saki must learn to appreciate tradition and think more of others than of herself with the help of some mythical beings along the way.
Do you have any other suggestions for #diversebooks that you would like to see in LightSail? Email [email protected] with suggestions!