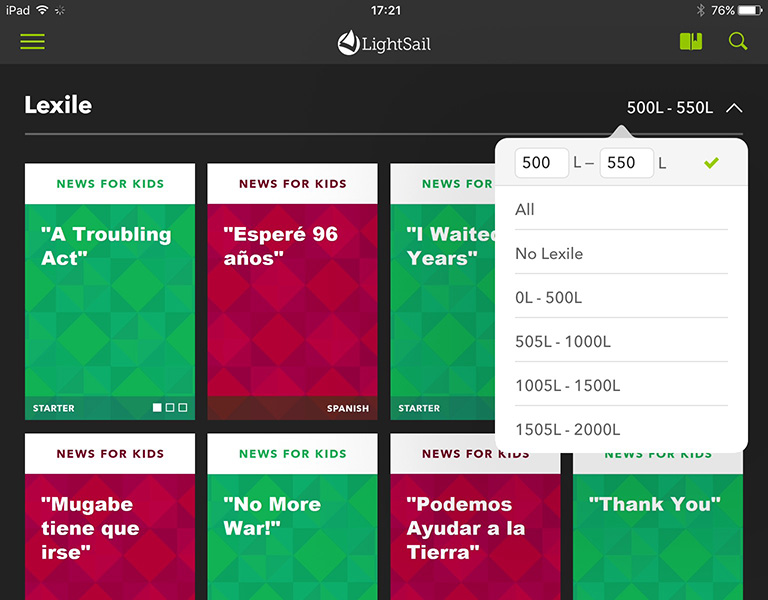 LightSail's product team strives to create an intuitive and delightful experience to engage students and support teachers. They are committed to creating an app which allows every user to discover the joy of reading.
Usher in the holidays and New Year with a merry new version of LightSail! Version 4.2 includes awesome features such as the Lexile shelf, updated navigation, ability to disable the Leaderboard, and a more comprehensive search. Keep reading to learn more!
Lexile shelf
Teachers, we are excited to introduce the Lexile shelf. This teacher only shelf can be accessed from the left hand navigation. It contains all texts in your library, which can be filtered using the Lexile filter in the top right. Texts are sorted alphabetically.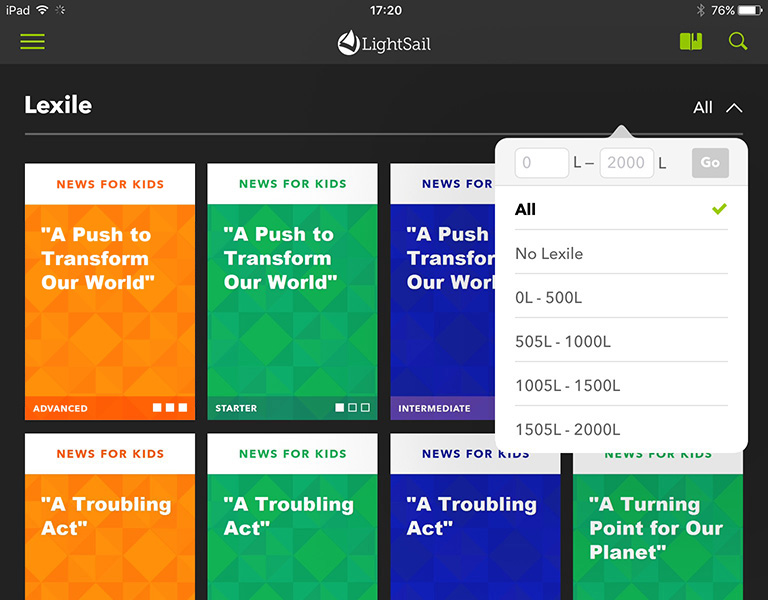 Selecting one of the predefined ranges such as "505L – 1000L" displays only those texts whose Lexile is equal to or between that range. You can also enter a custom range: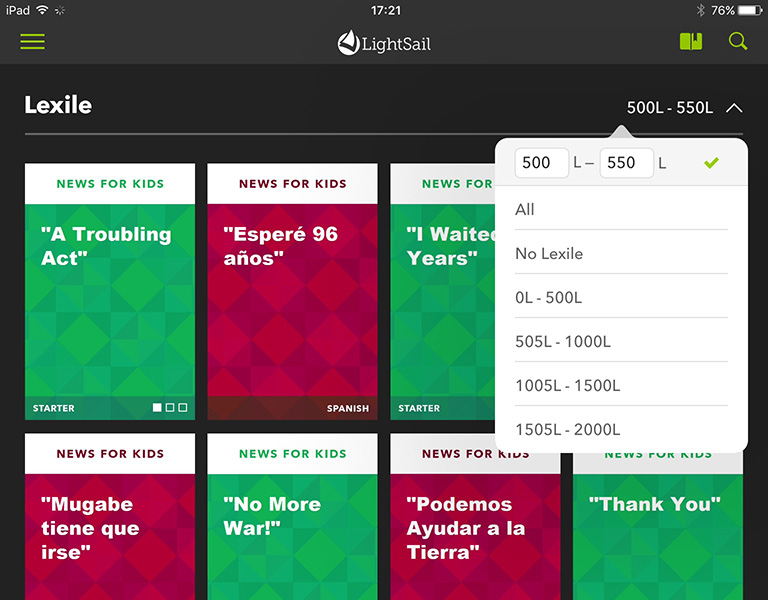 There is no limit to how many texts can appear. If your filter returns more than 40 texts, they will appear as you scroll down.

Give it a try by filtering your library. Tap on a cover and use the assign a text feature to push the text to a student or your class!
Updated Navigation
We've updated the left-hand navigation for both students and teachers.

For students, Bookshelf has been renamed My Texts. My Texts contains the following three shelves: Now Reading, My Reading List, and Power Texts. We've also added Power Texts, Newsstand, and Spanish to students' navigation.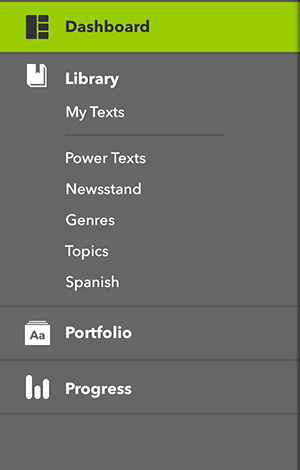 For teachers, Bookshelf has also been renamed My Texts. My Texts contains the Now Reading and My Reading List shelves. We've also added Lexile, Newsstand, and Spanish to teachers' navigation.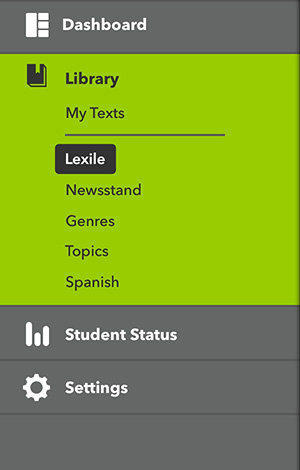 Minutes Read Leaderboard can be disabled
In LightSail 4.0 we launched the Minutes Read Leaderboard on the student dashboard. By default the leaderboard displays all students in a class and their total minutes read.
For classrooms better served without a competitive leaderboard we have added a new "Leaderboard" section in Settings. Here teachers can disable the leaderboard for individual students or an entire class.
Only students which have the leaderboard enabled appear in the rankings. Students that have it disabled are not listed. Instead of the leaderboard they will see the following on their dashboard: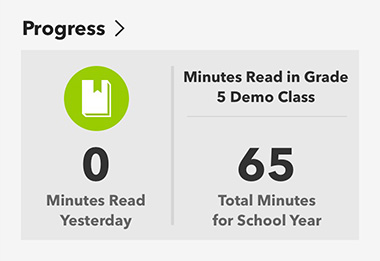 The left column displays total minutes read yesterday and the right column displays total minutes read for the academic year. Both numbers are class specific.
Enhanced Search
We've improved search to help students and teachers discover awesome texts! For example, if your library has Antares Reading texts, search for "Antares Reading" and see all texts by Antares returned: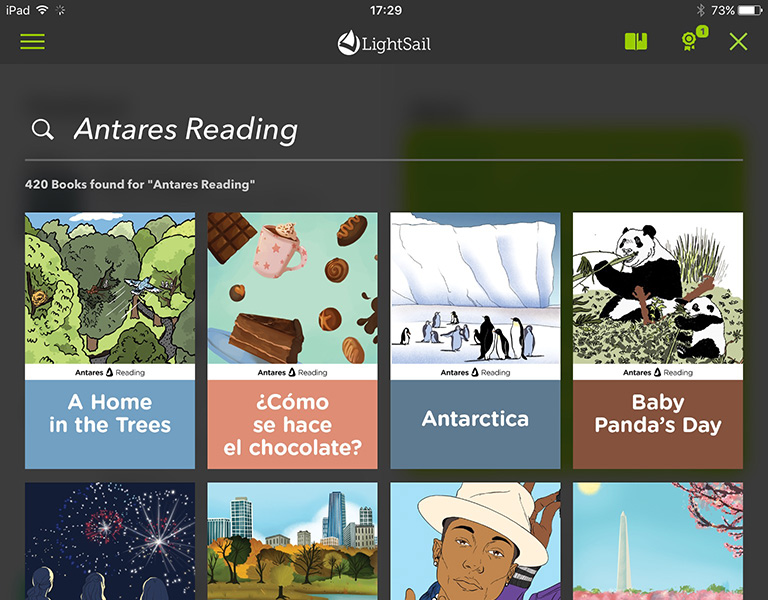 You can also utilize predictive search to find texts associated with a specific Genre or Topic. For example if you input Science, you can select "Science" or "Science Fiction" Genre, or "Earth Science", "Life Science", and "Physical Science" from Topics.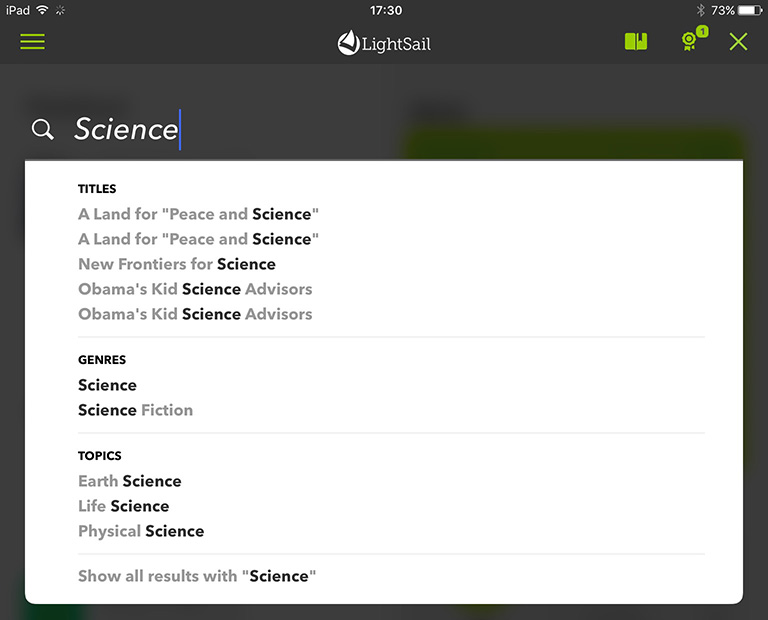 Give search a try and discover the perfect text for you!
Update to LightSail 4.2
These features (and more!) are available in the Apple App Store today!
Did you know?
LightSail 4.2 supports Spanish!
If your device language is set to Spanish, all menus, buttons, and alerts in LightSail will appear in Spanish. Note, the language of texts will not be translated (English texts will continue to appear in English). ¡Feliz lectura!