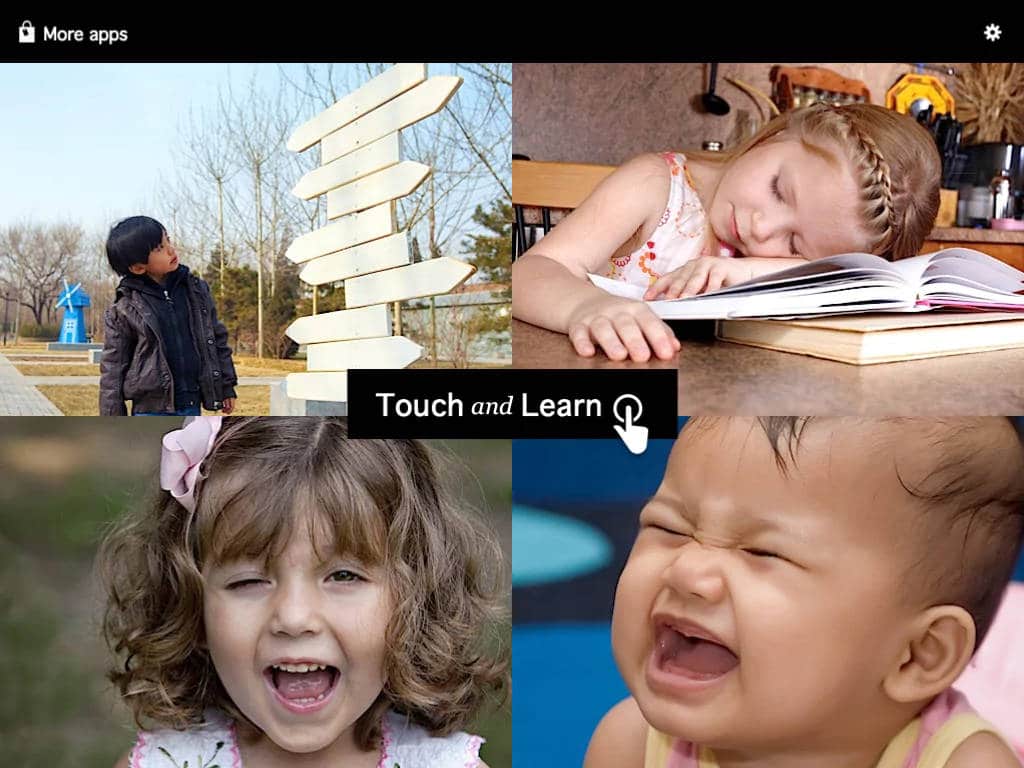 Autism is a neurological and developmental disorder that affects communication, learning, and social thinking. Autism is a spectrum disorder, meaning that the characteristics of autism can be seen at varying degrees over a spectrum. Children who have autism can vary greatly in their needs and challenges, ranging from mild to severe impairment. Treatment and services can improve a child's academic and communication skills, and their ability to participate fully in social interactions. Areas of intervention may include social thinking, language and communication, emotional regulation, and routine and organization.
Many technological tools have been developed to aid children who have autism. Today, there are many apps designed to help support skills development in children who have autism. Below you will find useful apps in possible areas of intervention for a child who has autism. Your child's teacher or case worker can guide you in what intervention areas and apps are right for your child.
1. Social Thinking Apps
Touch and Learn Emotions: 4.1 star rating; $1.99; ages 4+; This app allows children to learn emotions and facial expressions that accompanies those emotions
Pictello: 3.7 star rating; $19.99; ages 4+; You can make your own story books with photos and videos, use visual storytelling, use text-to speech or record your own audio. You can retell events from your life or make up your own stories.
Learn With Rufus: 4.0 star rating; $9.99 as a pack, $4.99 for emotions; ages 4+; In this app, children learn to identify emotions and facial expressions associated with those emotions. The game is highly customizable for varying abilities and skills.
ABA Flashcards: 4.1 star rating; $0.99; ages 4+; This is an app with flashcards for learning and discussing emotions.
Social Adventures: 3.7 star rating; $7.99; ages 4+; This app provides activities for teaching social skills and friendship skills in different situations.
Model Me Going Places 2: 4.0 star rating; Free; ages 4+; In this app your child will see modeling of appropriate behavior and social interaction for different places in the community, such as going to the doctor, grocery store, or restaurant.
Social Story Creator and library: 4.6 star rating; Free (in-app purchases); ages 4+, made for ages 6-8; You can use this app to design social stories, visual schedules, and memory stories.
2. Language and Communication Apps
Proloquo2go: 4.8 star rating; $249.99; ages 4+; A communication app for people who cannot speak or need help being understood. This app uses natural sounding voices and is customizable and can grow with language skills, supporting both beginning and advanced communication. Available in four languages: English, Spanish, French, and Dutch.
SpeechBox: 3.9 star rating; Free (in-app purchases); This is geared towards Speech and Language Pathologist educators. It can be used on Zoom, Google hangouts or Skype or in-person.
Avaz AAC: 4.3 star rating; Free 14 day trial, then subscription (in-app purchases); ages 4+; This is an augmentative communication tool for children and adults with language communication disabilities. One can access remote therapy by connecting to your therapist through the app. This app boasts natural sounding voices.
Grace PIcture Exchange for Non-Verbal Children: 4.4 star rating; $33.99; ages 4+; A picture exchange app to encourage independent communication through the use of images. A user selects pictures from categories and creates a sentence strip to share. This was created for people who have autism and designed to be used with minimal support from caregivers. Available in 8 languages: English, Spanish, German, French, Danish, Portuguese, Arabic, and Italian.
3. Emotional Regulation
The Mood Meter: 4.6 stars; $0.99; ages 4+; This app helps you identify and chart your emotions, as well as support you when you want to shift emotions. It uses the Mood Meter as developed by James Russell to identify emotions.
Inside Voice: no rating yet; $0.99; ags 4+; This app monitors voice volume and noise volume. The user can set a limit, and it will give a warning if you get close to or exceed that limit. Can be helpful in asking a person who has autism to use appropriate volume for the situation or knowing if a noisy situation might trigger noise sensory challenges.
Calm: 4.8 star rating; subscription; ages 4+; This app provides guided meditations or sleep stories for adults and children.
Ninja Focus: 4.5 star rating; Free limited version or premium subscription version; designed for ages 3-12; This is a children's mindfulness app. This app provides guided meditation, yoga flows, bedtime stories, and focus music.
Breathe, Think, Do with Sesame Street: 3.6 star rating; Free; designed for ages 2-5; This app teaches problem solving, self-control, planning, and task persistence through the help of a monster friend. The user learns emotional vocabulary, breathing techniques, and gets encouragement from the app. Available in English and Spanish.
4. Routine, Schedule, and Organization
Choiceworks Calendar: 4.0 stars; $9.99; ages 4+; This app is a picture based tool that teaches the concept of time and helps children learn what is happening day-to-day. It is well organized but could be visually overwhelming for some. It is all picture based/visual and does not yet have the option of text boxes on the calendar or schedule.
First Then Visual Schedule HD: 3.7 stars; $14.99; ages 4+; This app is helpful for children who are not able to read yet. You can create first-then boards, visual schedules, social stories, task lists, and choice boards.
I Get…My Daily Schedule, Recall my Day, and Daily Calendar Concepts: 3.7 star rating; $4.99; ages 4+; This app is designed for people who have difficulty with understanding the steps that will occur or have occurred in their day. Picture images are used to represent the events of a day. Text statements can be created for each picture to illustrate and describe the events of a day.
Birdhouse for Autism: 2.4 star rating; Free; ages 4+; This app is for parents to keep track of important information regarding their child who has autism. It has a behavior journal, reminders, track diets and dietary schedules, sleep tracker, meltdown tracker, medication log and therapy log, notes from therapy sessions, and more. You can share information and create helpful summaries.
LightSail's Adaptive Reading Experience
LightSail is available to help support your child's literacy needs. The Personalized Reader is here to help your child through their reading journey. No matter what abilities or challenges they have, LightSail has adaptive features to foster growth and a love of reading. The Personalized Reader can read to your child through adaptable voice-to-text, help them read with features to help focus on text, or support understanding with in-text audio or video links. Children are able to find books of interest on thousands of topics. LightSail has choices for every child.