Kids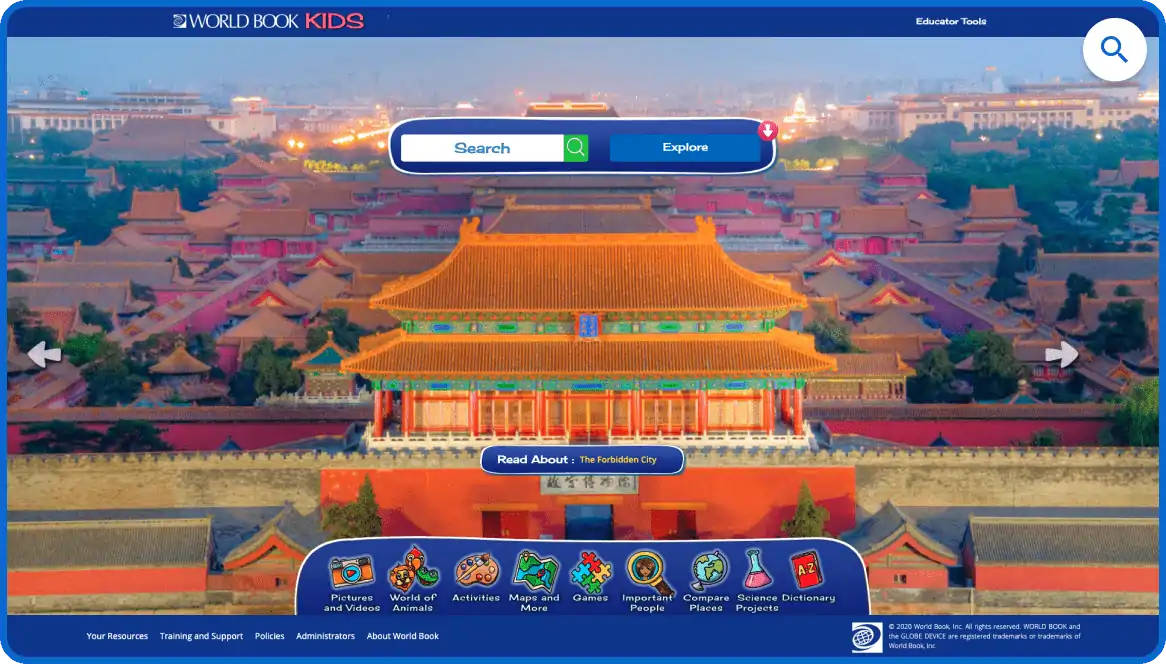 Kids - Grades 1st - 3rd
Interactive, image-based navigation helps young learners find information quickly and develop necessary digital literacy skills.
Pictures and Videos - Dig Deeper! Choose illustrations, pictures, and videos from such categories as arts to living things, to people and science and mathematics.
Expand subject comprehension with curated content that allows students to "dig deeper" into topics of interest.
Science Projects and lesson plans support SILM/SILAM initiatives. NGGS, Common core, and State Standards through project-based learning.
World Book Kids is designed for younger students. It begins with image based navigation that ensures your child can easily find their topic of interest.
This full reference library from World Book Kids is presented in an interactive format that is easy to read. The topics are curated to ensure they are age appropriate while still providing the rich information World Book is known for.
World of Animals - Learn about hundreds of animals around the world while improving compare and contrast skills.
Science Projects - Get hands-on with these projects and lesson plans in a wide variety of S.T.E.M. and natural science subjects.
Compare Places - Compare any two states, countries, provinces, or continents, and see a side-by-side of important facts or dive deeper into each one.
Maps - Explore an interactive map that connects children to relevant encyclopedia articles. Check out the Atlas and find maps showing political, demographic, and weather information, and more. Download and print blackline, maps with or without labels, and flags for students to complete and color.
WebQuests - Printable, self-directed research and explore lessons, perfect to supplement a homeschool curriculum.
Important People - Search hundreds of biographies filtered by categories such as gender, area of expertise, or time period.
Games, Activities, Pictures and Videos, a Dictionary, and much, much more. Borrowed and adapted with pride from World Book Digimag.
100+ GAMES
The number of games played each minute
360K VIDEOS
The number of videos watched each month
15K BOOKS
The number of Early World of learning stories read each day
Our 90 day money back guarantee
30 Minutes a Day + 5 Days a Week + 3 Months = GUARANTEE your child's independent reading level will improve.*
We're here to help!
Find answers to frequently asked questions or contact us for more support.
How do I know what books are right for my child?
LightSail takes the guesswork out of choosing books for your child by tailoring each child's library to their precise reading level.
By honing in on a child's precise LexileⓇ reading score, LightSail can match them with books that are at that "just-right" level to promote optimal reading progress.
And because LightSail contains such a wide-ranging array of content, there is always a vast selection of books for any topic or interest.
What ages/grades is LightSail for?
LightSail's Premium and Standard subscriptions are designed for children in grades 3 through 12 (ages 8-18).
We also have a World Book Kids subscription for grades 1 through 2 (ages 5-7) and a World Book Early Learners subscription for PreK through K (ages 2-5).
Is LightSail different from an Amazon Kindle or other e-readers?
Unlike static e-readers, LightSail doesn't just offer children books.
Every book and article in LightSail contains 6 layers of added features that let your child experience books.
By adapting to a child's precise reading ability, offering them content that is at that "just-right" reading level to promote literacy growth, and providing a fully customizable, rewarding reading experience, LightSail unlocks the magic of reading in ways no physical book or static e-reader can.
What types of parental control do I have over my child's activity and content?
In short, complete control.
LightSail contains an entire suite of parental control features that govern every aspect of the platform from video viewing, to chats, to what content can be seen and accessed.
Additionally, LightSail's revolutionary ChildSafe Content Controls lets parents screen and block content according to dozens of nuanced subcategories based on maturity factors, family values, and religious topics.
How can I make reading fun for my child?
LightSail incorporates gamification features into every aspect of the platform, especially reading!
By integrating badges, goals and milestones, social sharing options, motivational messages, and the ability for parents to add customizable gift rewards, LightSail incentivizes reading, writing, and learning just like kids' favorite games.
Parental Controls
Parental Controls allows you to relax while your child is in LightSail. You have complete oversight of all of your child's activities. The ChildSafe matrix lets you control the content your child is allowed to read. You will be guided through the Parental Controls set up, so you never have to worry about whether a book is not appropriate for your child.
About Us
We are LightSail for Reading at Home-a literacy and language arts platform adapted from LightSail Education. LightSail Education has been working to advance literacy skills in K-12 schools since 2012.