Writing
LIGHTSAIL BRINGS WRITING TO LIFE
Your child will be supported and inspired as they progress through LightSail's writing modules. LightSail seamlessly integrates reading and writing to reinforce your child's skill growth.
Sign up now
Try our Writing Workshop
This game will spark your child's creativity! Your child will spin the wheel and will be given a writing format and a real-life prompt. They will be required to think critically about necessary information, organization, author's voice and their audience.
Try it for yourself and see how your child will be asked to work on writing skills in a fun, relatable, and realistic manner.
Press on the wheel to start!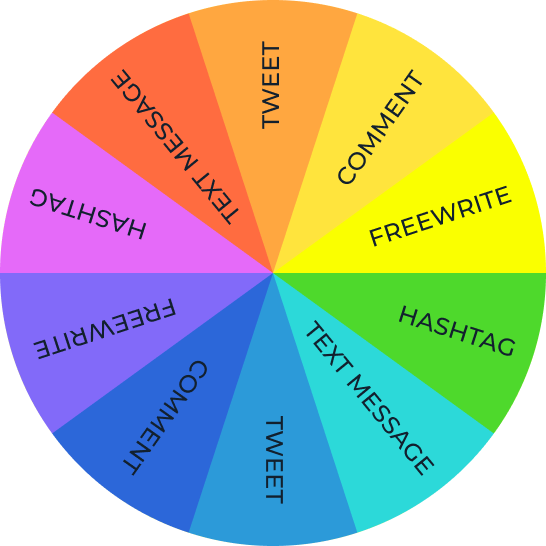 Learn how LightSail's library is tailored to your child's reading level!
Age Range
LightSail for Reading at Home is designed for children ages 8-18.
Rubrics
Want to know how your child's writing is progressing? LightSail has assessments and rubrics to help parents understand the progression of writing skills.
Clear Directions
Your child will be given easy to follow writing prompts with both written and video directions. In addition, you can add your own written or audio directions to help your child through each step of the writing process.
Your Data
LightSail provides you with information you can understand about your child's writing, as well as with rubrics, teacher guidance, and sample pieces so you can see how your child is learning.
Integrating Reading and Writing
Writing prompts will require your child to think critically and write about what they have read, with all the steps broken into manageable pieces.
Types of Writing
Your child will be exposed to the step by step process of many different writing formats, from a K-W-L inquiry paragraph to a journal entry to an essay.
Social Media
LightSail allows both parents and children to display their accomplishments on social media platforms.
Gamification
LightSail makes writing fun with the ability to earn badges, gift rewards, motivational messages, and more!
Parental Controls
LightSail gives you complete control over the content your child can access.
Parent Involvement
You can assign your child a specific type of writing prompt or skill practice, as well as send your child motivational messages and helpful feedback all in LightSail.




Learn how LightSail uses
Gamification
Motivate children to read and write by incorporating fun challenges and rewards.
Meet the educators who contributed to our modules.
Buy one
For every LightSail subscription you purchase for your family . . .
Donate one
. . . the LightSail Foundation will match it and donate a subscription to the charity you select.
Our 30-5-3 Guarantee
Read 30 Minutes a Day, 5 Days a Week for 3 months, and we GUARANTEE your child's Independent Reading Level will improve - or your money back!*
We're here to help!
Find answers to frequently asked questions or contact us for more support.
How do I know what books are right for my child?
LightSail takes the guesswork out of choosing books for your child by tailoring each child's library to their precise reading level.
By honing in on a child's precise LexileⓇ reading score, LightSail can match them with books that are at that "just-right" level to promote optimal reading progress.
And because LightSail contains such a wide-ranging array of content, there is always a vast selection of books for any topic or interest.
What ages/grades is LightSail for?
LightSail's Premium and Standard subscriptions are designed for children in grades 3 through 12 (ages 8-18).
We also have a World Book Kids subscription for grades 1 through 2 (ages 5-7) and a World Book Early Learners subscription for PreK through K (ages 2-5).
Is LightSail different from an Amazon Kindle or other e-readers?
Unlike static e-readers, LightSail doesn't just offer children books.
Every book and article in LightSail contains 6 layers of added features that let your child experience books.
By adapting to a child's precise reading ability, offering them content that is at that "just-right" reading level to promote literacy growth, and providing a fully customizable, rewarding reading experience, LightSail unlocks the magic of reading in ways no physical book or static e-reader can.
What types of parental control do I have over my child's activity and content?
In short, complete control.
LightSail contains an entire suite of parental control features that govern every aspect of the platform from video viewing, to chats, to what content can be seen and accessed.
Additionally, LightSail's revolutionary ChildSafe Content Controls lets parents screen and block content according to dozens of nuanced subcategories based on maturity factors, family values, and religious topics.
How can I make reading fun for my child?
LightSail incorporates gamification features into every aspect of the platform, especially reading!
By integrating badges, goals and milestones, social sharing options, motivational messages, and the ability for parents to add customizable gift rewards, LightSail incentivizes reading, writing, and learning just like kids' favorite games.
Parental Controls
Parental Controls allows you to relax while your child is in LightSail. You have complete oversight of all of your child's activities. The ChildSafe matrix lets you control the content your child is allowed to read. You will be guided through the Parental Controls set up, so you never have to worry about whether a book is not appropriate for your child.
About Us
We are LightSail for Reading at Home-a literacy and language arts platform adapted from LightSail Education. LightSail Education has been working to advance literacy skills in K-12 schools since 2012.