Women's History Month is a time to honor notable women from all walks of life. Your students can observe the month by digging into the biographies of must-know women. Where to begin? The 16 women below are sure to make an impression on the readers in your home.
1. Maya Angelou
Poet Maya Angelou experienced the Civil Rights Movement of the 1960s firsthand. Throughout her life, she was a powerful voice for women and Black people.
To find out more about Angelou, listen to the audio picture book Sing! and read the Biography Center article on her. Don't miss exploring some of her own words; read her poem "Phenomenal Woman" and watch the action clip "Dr. Maya Angelou, Poem."
(Image credit: glamourmagazine.co.uk)
2. Marie Curie
Marie Curie is best known for her work with radioactive materials. Her scientific endeavors won her a Nobel Prize.
LightSail has multiple biographies on Curie, including the graphic novel Marie Curie and Radioactivity, the TED-Ed video "The Genius of Marie Curie," and the World Book article "Marie Skłodowska Curie."
(Image credit: biography.com)
3. Amelia Earhart
Amelia Earhart was the first woman to pilot a plane across the Atlantic Ocean on her own. She paved the way for other female aviators.
If your kids want to know more about Earhart, they'll enjoy reading Famous Americans: Amelia Earhart, watching "Women's History Activator: Amelia Earhart," and studying her Biography Center article.
(Image credit: britannica.com)
4. Ruth Bader Ginsburg
Ruth Bader Ginsburg was the second woman on the US Supreme Court. She also helped establish the ACLU's Women's Rights Project.
Ruth Bader Ginsburg: Iconic Supreme Court Justice tells her story, as does the World Book entry that bears her name. For a video biography, don't miss "Remembering Ruth Bader Ginsburg | NYT News."
(Image credit: oyez.org)
5. Billie Holiday
Jazz singer Billie Holiday's life wasn't easy, but she shared important messages with the public about racial issues and civil rights.
Your young kids can read about Holiday in the picture book Strange Fruit. Teens will learn some of the grittier details of her life in the video "Tragic Details About Billie Holiday."
(Image credit: britannica.com)
6. Frida Kahlo
Considered one of Mexico's greatest artists, Frida Kahlo is known especially for her bold self-portraits.
Frida Kahlo: Artist and Activist tells her story. Teens may be intrigued to learn about the symbolism in her work through the TED-Ed video "Frida Kahlo: The woman behind the legend."
(Image credit: fridakahlo.org)
7. Helen Keller
Helen Keller is widely known for being both deaf and blind, but your children may not be aware that she also helped found the American Civil Liberties Union (ACLU).
Keller recorded her own autobiographical thoughts in The Story of My Life and The World I Live In. The latter is available on LightSail in both text and audio formats.
(Image credit: biography.com)
8. Michelle Obama
During her time as First Lady and beyond, Michelle Obama has inspired others to eat healthy foods and pursue education.
Your children can find out all about her in Michelle Obama: Political Icon. While you're at it, read the "Michelle Robinson Obama" World Book article.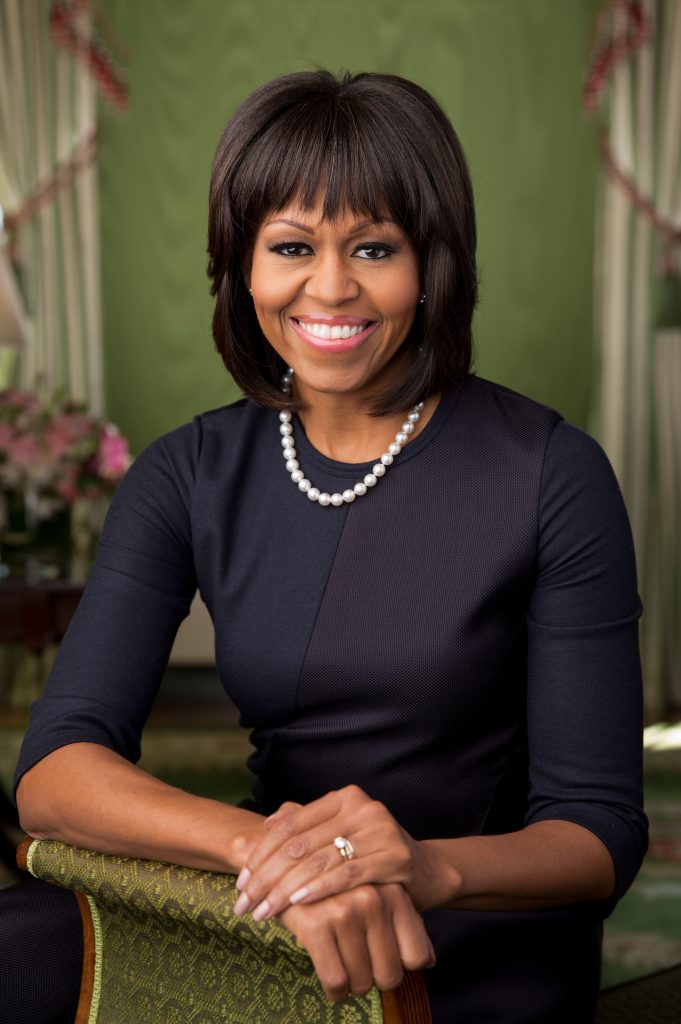 (Image credit: obamawhitehouse.archives.gov)
9. Sally Ride
As the first American woman to travel into space, Sally Ride inspired a generation of girls to pursue careers in science.
Your kids will enjoy reading about her adventures in Astronaut and Physicist Sally Ride. The video "History in Five: Sally Ride, America's First Woman in Space" is worth a watch, too.
(Image credit: nasa.gov)
10. Eleanor Roosevelt
As a diplomat to the United Nations, Eleanor Roosevelt headed up the Commission on Human Rights. She was also a US First Lady and a driving force in political campaigns.
There's a spread on this noteworthy woman in Franklin D. Roosevelt's Presidency, and you'll also find an article in the Biography Center that's dedicated to her.
(Image credit: fdrlibrary.org)
11. Sacagawea
Traveling with Lewis and Clark, Sacagawea served as a translator and a guide. Because of her contributions to US history, she's been featured on a one-dollar coin.
LightSail offers two books about this remarkable woman: Sacagawea and Westward Expansion: Sacagawea. Don't miss the TED-Ed video "The true story of Sacajawea."
(Image credit: britannica.com)
12. Elizabeth Cady Stanton
Today's women have the right to vote due, in part, to the tireless advocacy of Elizabeth Cady Stanton.
Younger kids can read about Stanton in Elizabeth Cady Stanton: Fighter for Women's Rights, and older students may be interested in listening to the audio version of her autobiography, Eighty Years and More; Reminiscences 1815-1897.
(Image credit: womenshistory.org)
13. Greta Thunberg
From a young age, Greta Thunberg has dedicated her life to spreading the message of today's environmental crisis.
Your students may be inspired as they explore Greta Thunberg: Climate Crisis Activist, and they can hear her speak in the video "Greta Thunberg sets sail for UN summit."
(Image credit: biography.com)
14. Sojourner Truth
Alive during the time of the Civil War, Sojourner Truth advocated for the end of slavery and segregation.
The title Sojourner Truth: Fighting for Freedom is a modern biography of this woman. To hear her story in her own words, your kids can read or listen to the audio version of Narrative of Sojourner Truth.
(Image credit: womenshistory.org)
15. Harriet Tubman
Harriet Tubman, best known for being a conductor on the Underground Railroad, also served as a Civil War spy and advocated for women's voting rights.
Students can learn about her biography in the video "Who was Harriet Tubman?" or the books Harriet Tubman: Union Spy and Harriet Tubman: Abolitionist and American Hero.
(Image credit: wikipedia.com)
16. Malala Yousafzai
Known around the world as Malala, Malala Yousafzai believes wholeheartedly that girls should have full access to educational opportunities.
To learn more about this Nobel Peace Prize winner, kids can read Malala Yousafzai: Heroic Education Activist as well as the "Malala Yousafzai" Biography Center article.
(Image credit: malala.org)
As your family explores Women's History Month, dig into LightSail's libraries for biographies and other resources.