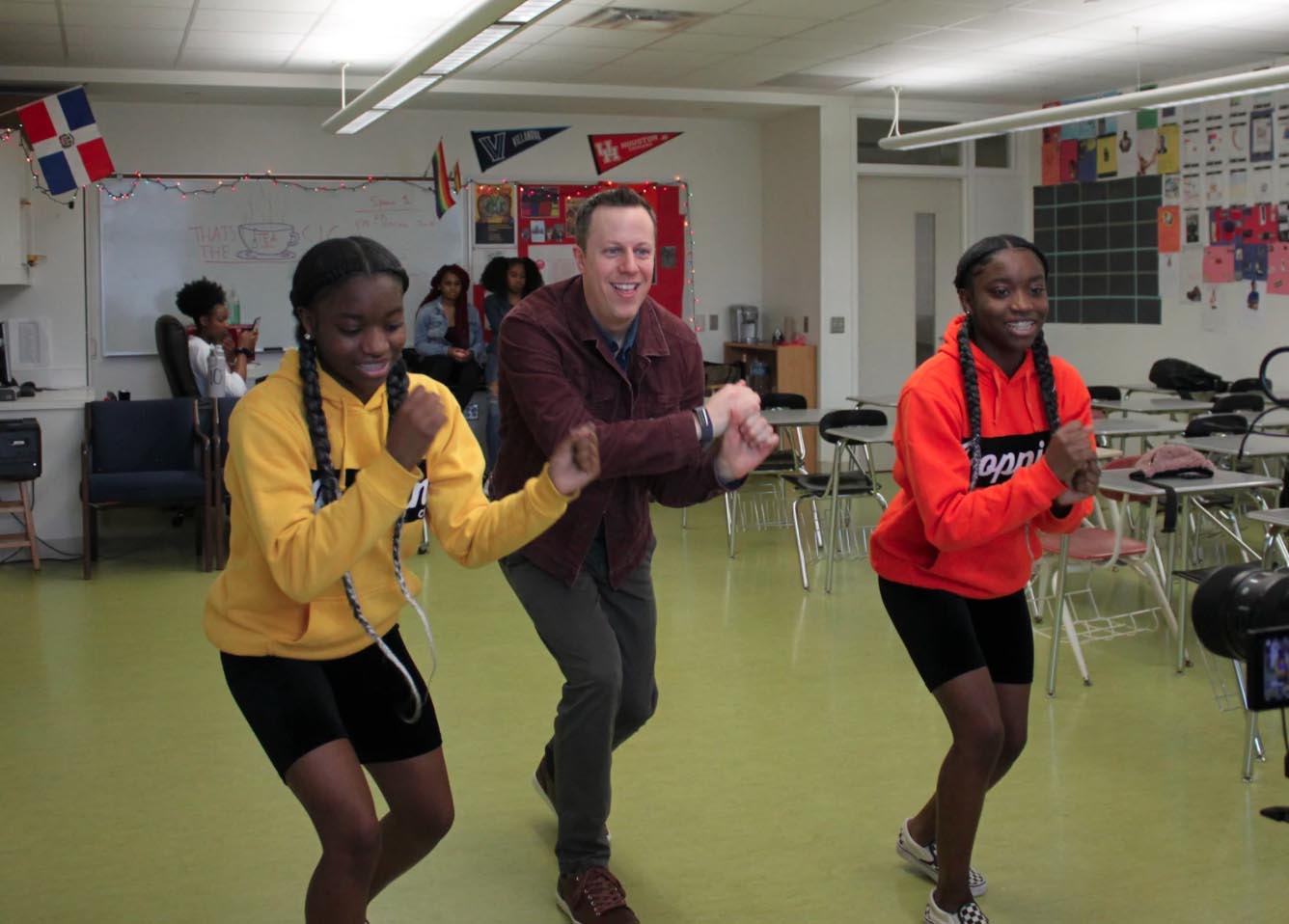 HOW DR. TREVOR BOFFONE USES DANCE CHALLENGES TO BUILD RELATIONSHIPS
INTERVIEW WITH DR. TREVOR BOFFONE
November 1, 2021
Dancing his way into the hearts of Bellaire High School youth, and then the world via Dubsmash and TikTok, Dr. Trevor Boffone welcomes anyone with a beat into his after-Spanish-class dance lessons. Chronicling his adventures in relationship-building through dance in his book Renegades: Digital Dance Cultures from Dubsmash to TikTok, Dr. Boffone truly does heart work in connecting with his students through what means the most to them. In this case, dance ended up being the beat that allowed their rhythms to sync.
But he's more than just a social media celebrity! Dr. Boffone earned his Ph.D. in Spanish, where he specialized in LatinX culture, and also holds a certification in Women's, Gender, and Sexuality Studies, which he currently teaches at the University of Houston. He also founded the 50 Playwrights Project that gives a voice and creative space to contemporary Latin theatre artists, and serves as an educational ground for connection and celebration of the Latin voice in the cultural arts.
Learn more about his dance revolution on the high-school level as Dr. Boffone chats with LightSail's Erin Hubbard.
The Story Behind the Dancing
EH: We're so happy to have the chance to chat with you today! Obviously, we're obsessed with your dance moves and your students' constant choreography challenges. You were even features on multiple news networks including Good Morning, America, Access Hollywood, and Inside Edition!
How did you get the idea to dance with your students? I guess it's a chicken or the egg question…were they dancing first and you decided to join in, or were you always a dancing fool and invited them to help you come out as addicted to footwork?
TB: This is the question everyone loves to ask and I think it's a little bit of both!
I have taught since 2008 and have always danced with my students. It's been a core way that I bond with them since day one.
When I began working at Bellaire High School in 2018, Dubsmash re-launched as a dance challenge app and TikTok entered the United States market. All of a sudden, my students were doing these highly-choreographed dance routines in perfect unison, and I was so curious what was happening.
By this point in the fall semester, they had already been teaching me some dance moves, so when I showed a genuine interest in the dance challenges, they invited me into the circle and taught me everything they knew. (I detail this much more in the preface and latter chapters of my book.)
My students truly changed my life and I'm not just being hyperbolic. They did!
I dance with my students, but other teachers might find something that is more authentic to their interests. As I always tell other educators, what's important is building the relationship first, centering student cultures in the classroom, and genuinely learning about them.
From there, you can find the commonalities that can transform the classroom. Dancing works for me, but it could be any number of things for you–sports, sewing, fashion, writing, drawing, food, etc.
Building Success with Digital Literacy
EH: I definitely found that as well as an educator and even as a parent. You've got to find that niche and really encourage their individuality. When you allow a student to teach YOU something, it opens up an entirely new world of trust, of possibilities, of understanding, and of incredible fun!
Given that a lot of your fame came from social media platforms, let's talk a bit about the digital world. Obviously, we're all about digital literacy, ebooks, and multimedia here at LightSail, but we're also about helping kids achieve their highest potential.
Do you find that digital literacy supports or distracts from your curriculum?
TB: I think it supports my curriculum. Because of the digital stuff, my students like coming to my class, have a higher level of buy-in, and work harder. They want to succeed in my class which sometimes spills into their other classes.
In my class, I prioritize their success. They see it's not me "just being a teacher," but rather I really care about their growth, so they are more invested.
So many of my students feel invisible at school. Their teachers see them as just a body in the classroom. The teachers don't take the time to actually build a relationship and the students see this and, for many of them, it makes them not care about the class. I'm far from the only person to say this (hello, Christopher Emdin!), but you can't teach your students if you don't know them.
You have to center their cultures in the classroom. And, for teenagers today, so much of their culture is digital so I don't shy away from it.
EH: I saw a video where one of your students said that you used dance as a reward for them completing assignments. Do you ever incorporate it into their classroom work or in projects?
I've incorporated TikTok into my classroom in some formal ways. For example, students make TikTok videos in Spanish. My students write short stories in Spanish, storyboard them, and then make TikTok videos.
[Other] students then watch the videos. It's almost like they are learning Spanish incognito. They are on TikTok, which doesn't feel like learning, but the digital tools are actually transforming the way they interact with Spanish.
EH: As both an English and Spanish teacher myself, I understand how important it is to find other avenues to make the work more relevant for them. Rather than just have them sit and conjugate verbs, you've really got to find some real-world cred, something that will help them see what the point is. If you can find the fun in that as well, then you've got it down!
Building Empathy Through Cultural Theater Arts
EH: In addition to being a high-school teacher by day, you're also a huge advocate and playmaker in the cultural arts community. How has your work in this area influenced your job as a high school teacher?
TB: I'm a creative at heart and I truly think my theatre arts background is precisely what makes my teaching click. Theatre is really about building and having empathy, which are two things I try to pass on to my students. We have to learn to care for other people and work to actually understand who they are, where they've been, and what they are going through.
EH: That's beautiful. If more teachers would think like this, we'd have a lot more success on a daily basis. How does that transfer into your classroom?
TB: My classroom is a performance space! My classroom is a place to unwind, destress, and have fun at school.
I regularly place music during class time (and often take student requests). When students enter my room, I have music playing and kids will dance together before class starts.
Of course, I dance with them. It sets the tone from the beginning. We "break bread" together and build community, which allows everything else to seamlessly fall into place.
EH: I love that sentiment. Meet them where they are, and build from there. I think a lot of education focuses on a top-down approach, where the teacher knows all and the students are vessels to be filled. I definitely don't approach it that way, and I love when I meet other kindred spirits. I do feel it's an exchange of ideas, a sort of symbiotic process by which we all learn and grow together.
Finding the Balance – Social Media, Gaming, & the Modern Student
We have a lot of parents who are panicking about social media usage and constant gaming with their teens. What are your thoughts there? And do you have advice for parents trying to pull their kids away from social media or gaming devices?
TB: I don't think social media or gaming devices are the enemy.
I do recognize that students (and adults!) are addicted to them. But they aren't going away.
So what I think we need to collectively do is teach young people how to find a balance. I say this as someone who is pretty much addicted to their phone, but I have the willpower to set it aside and do what needs to be done.
So many young people today quite literally can't set their phone down for even a few minutes to complete a task. To work around this, I use a number of educational apps in my classroom and I allow students to use their phones.
The phone isn't going away, but at least I can try to get them to see the educational value in a cell phone. I wish I had more advice, but I think this is the major question facing us right now!
EH: I would agree! It's all about finding a balance…just like you mentioned before. So much of life is an ebb and flow. It definitely has a lot to do with the give and take, and reframing the way we see and do things.
The Influence of LatinX, Women's, & Queer Studies – Tolerance & Empathy First
EH: Speaking of which, as if you weren't well-rounded and interesting enough, you have your doctorate in Latinx studies and a focus in Women's, Gender, and Sexuality Studies, did I get that right?
TB: I have a Ph.D. in Spanish with a Latinx cultural studies emphasis, and a graduate certificate in Women's, Gender, and Sexuality Studies. I also still teach one section of Intro to LGBT Studies per semester at the University of Houston.
EH: This is fascinating! I'm so curious to ask how your work in this area influences the way you teach or approach teaching?
TB: I'm glad you asked this! My teaching is highly influenced by my work in ethnic, feminist, and queer studies. These fields rely on community-engagement and relationship-building.
So, if you read the latter chapters of my book, for instance, you will see how many of my successes in the classroom are a result of foregrounding relationships first.
What I really care about as a teacher is that my students can come to my class, learn about respect and responsibility, and leave as better versions of themselves.
On another note, my training has empowered me to not shy away from touchy subjects. We talk about racism, homophobia, transphobia, sexism, etc. in my class. I have a Pride flag hanging in my room and posters advocating that Black Trans Lives Matter.
I want my students to know my values when they walk in my room without me even saying anything. I want them to know that my classroom is a place of tolerance and a place in which we will collectively work towards building a better community, one in which everyone feels valued and respected for who they are. We work across differences to imagine a better future.
EH: I feel like everyone needs to hear that multiple times, no matter where you are. If we can all love and respect one another from the ground up, we'll have a lot more time to get to know one another. It takes too much effort to hate. It makes the world a dark place when that's all you've got in front of you.
Post-Pandemic Teaching – What's Changed?
EH: Speaking of dark situations, let's talk a bit about COVID. How has teaching been for you during/since COVID?
TB: Last year my school was hybrid, but about 90% of my students were virtual. I'll be honest, I really struggled with it and dreaded starting each virtual session. I think I did a pretty good job under the circumstances, but the entire year I just felt like a failure and it started to really wear me down as the school year progressed.
Last year was also tough because every single lesson had to be new to work virtually. I opted for tons of games and interactive activities, which my students told me they really appreciated.
EH: A lot of people are lamenting over the COVID slide. What did you do to keep your students fresh?
TB: This year we are fully face-to-face and I'm honestly having a great year so far. From what I've seen in three months, my students have far greater digital capacities than they typically have. Almost all of them understand how to do things on the computer that were a struggle two years ago.
Where I am noticing a "slide" is not necessarily in academics, but in maturity. I teach high school, but many of my freshmen are legit acting like they have forgotten how to properly socialize and "do" school.
EH: I can imagine…that lack of person-to-person socialization can have a dramatic effect. I think we all have slipped into a digital comfort where we text but don't have to account for nuance or body language.
What's on Dr. Boffone's Bookshelf?
EH: I've got one more question for you, and it's one of my favorites. We'd love to know what are some of your favorite books to use in the classroom, or what books have you found to be influential for yourself or your students? Where does your literacy pulse flow?
TB: I'm an avid reader and do much work on Young Adult Literature, so I always bring this part of me into my classroom. I have informal reading clubs with my students and always try to find ways to promote reading (and literacy).
I also try to use books by Latinx and LGBTQ+ YA authors, as well, since that's where my reading interests typically go. I also find that my students today are hungry for more inclusive stories.
EH: We find that as well at LightSail, and we try to acquire as many diverse and culturally relevant books as we can. Do you have any favorites you could recommend?
TB: Some current books that I keep in my classroom and recommend to students include:
They Both Die at the End by Adam Silvera
Aristotle and Dante Discover the Secrets to the Universe by Benjamin Alire Saenz
Labyrinth Lost by Zoraida Cordova
When the Moon was Ours by Anna-Marie McLemore
1,500 Miles from the Sun by Jonny Garza Villa
Cemetery Boys by Aidan Thomas
EH: Thank you so much for taking the time to talk with us today! We're so excited to share some glimpses of your world and your philosophies with our readers.

How to Connect with Dr. Boffone Online
For more details into his cultural revolution through dance, laughter, and connection, get yourself a copy of Dr. Boffone's book Renegades: Digital Dance Cultures from Dubsmash to TikTok. Special thanks to Dr. Boffone for offering us 30% off with the discount code AAFLYG6.
You can also find more information at www.trevorboffone.com and be sure to follow Dr. Boffone on Instagram @dr_boffone and on Twitter @trevorboffone as well to see the latest moves he's learned from his immensely talented students!