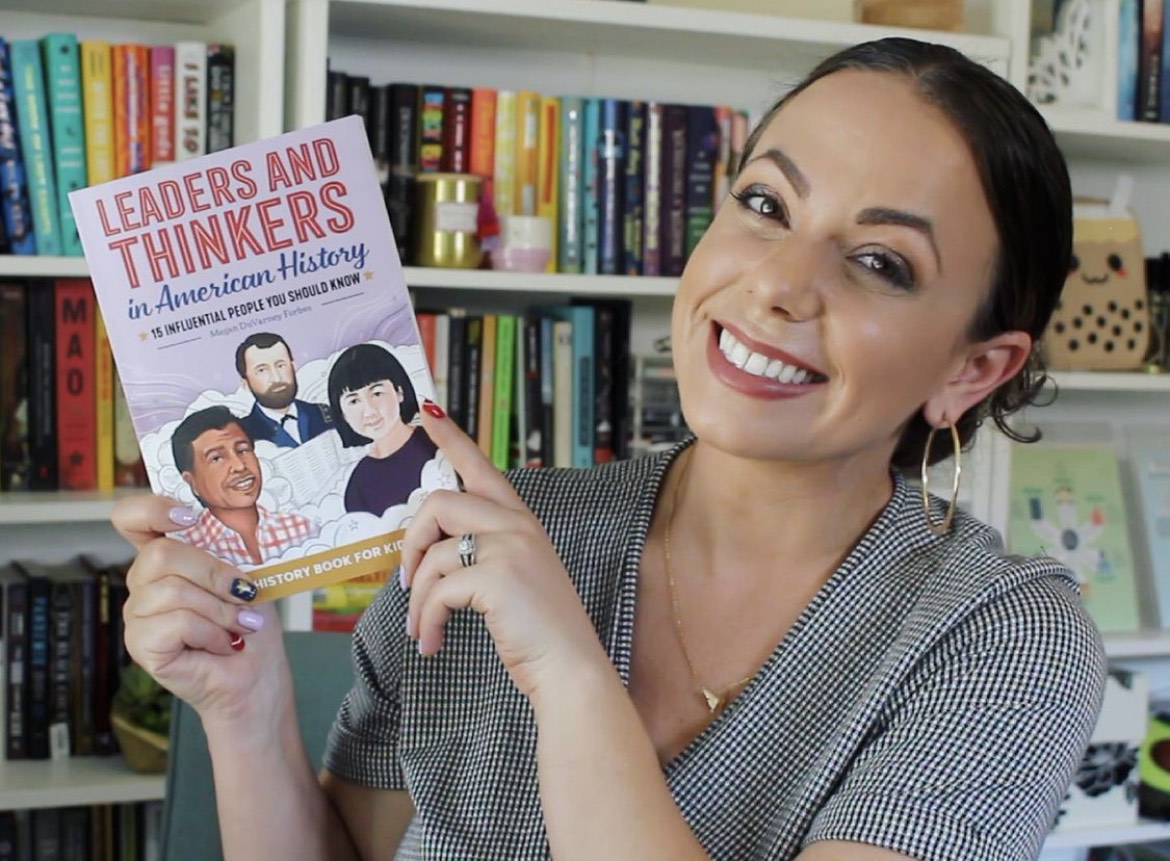 November 5th, 2021
We are so pleased to have had the honor of interviewing Megan Forbes from Too Cool for Middle School. She's someone to know on social media, striving to be a role model and influence people to BE something, according to her intro video on YouTube. Passionate about fashion, social justice, equity in the classroom…and, of course, books, especially history books, Megan lights up our Zoom convo with her bubbly personality and emanates kindness even on a Friday at the end of a long school week!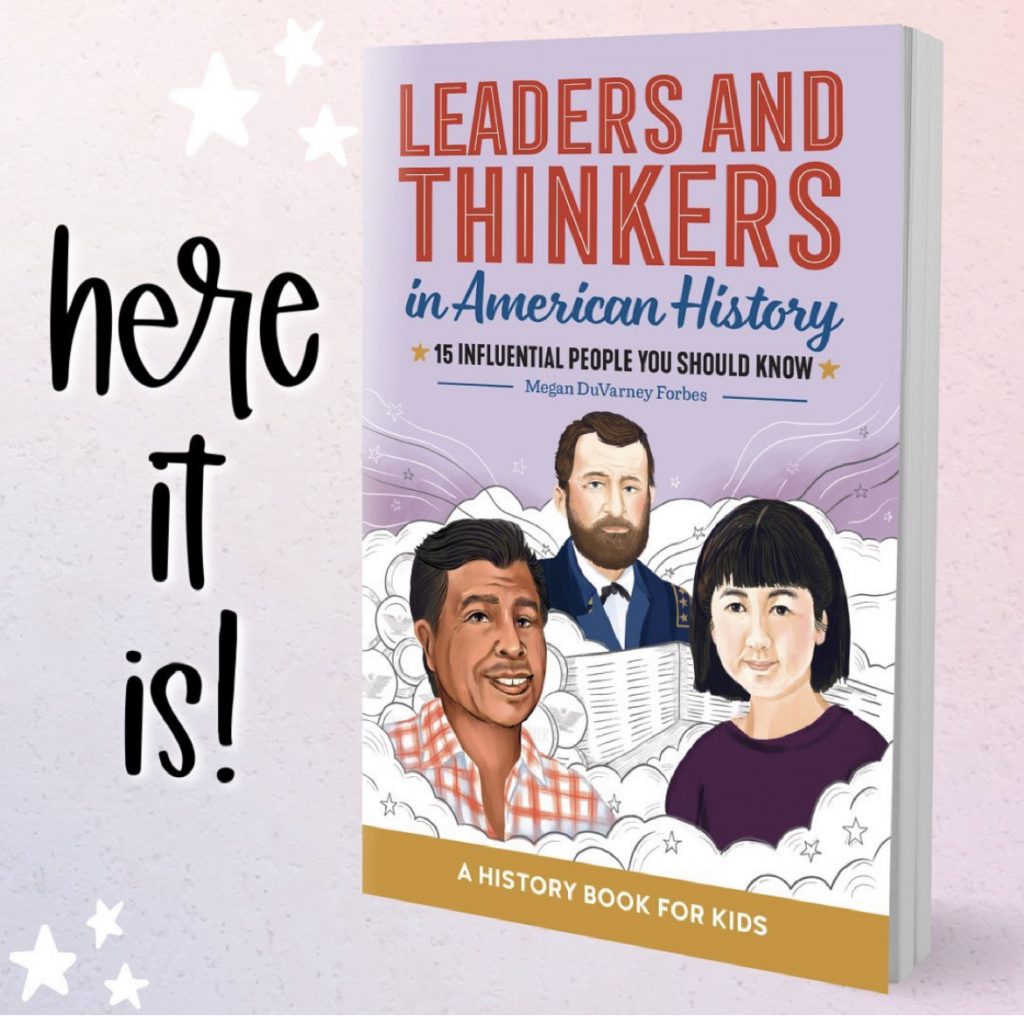 She's the author of two books – Leaders and Thinkers in American History and Major Events in American History – both of which are amazing companions to both history and literature for teachers or students of all ages. She also has an amazing Teachers Pay Teachers site where you can pick up some awesome ideas and resources on incorporating history into your classroom in interesting ways.
And she takes on the tough topics, posting videos for teachers and parents about how to talk about controversial issues in the classroom, and how to teach U.S. history where black lives matter.
With Lin-Manuel sipping on Starbucks on the whiteboard behind her, Megan comes to us from her classroom full of books and new ideas to share with us:
Seeing & Fulfilling a Need for Quality Historical Literature
EH: At LightSail, we're all about helping kids develop their reading identity, learning who they are as a reader, and supporting teachers in this process as well. I love that you saw a need and you said, "I'm going to write a book!" Teachers do this all the time – you see a need, and you do what you've got to do for your kids. So, talk to us about your books.
MF: Sure! My passion is history, my Master's degree is in history, and so I do a lot of research more at the college level and have been able to write my thesis and read really complicated articles that I think have really shaped me as a person. I think my just experience with getting to study history at such a high level has really shaped so much of my entire life and worldview.
And, I definitely didn't get that as a kid. In my history classes, it was pretty much just an overview, we didn't go deeper into anything. I wished there were a few more resources not at the college level…for students who were still finding that reading identity like you were talking about in upper elementary and middle school.
A lot of time the options for them are just really sanitized and not all that interesting either, and they can tell too a lot of times. Like, "Wait a minute! That doesn't quite make sense. How did all of that just wrap up so perfectly?" So, I wanted to be able to offer them some more resources to learn more about US history and to give teachers those options too.
Especially for upper elementary teachers, they don't have time to be researching every single little topic they're doing for social studies because they're teaching [everything else]. If something is just there for you and done, that is something you're actually going to use. You're not going to have time to go read all of these articles online. I just wanted to give another option for teachers.
EH: When you see teachers supporting other teachers, that is everything in today's world. I know that a lot of teachers across the hall will pop in and see what someone else is doing, and then want a piece of the action! I used to do it, and it would happen to me as well!
Experiencing History with Quality Resources
EH: How do you think students have experienced history differently thanks to your resources? How do you see students responding to it?
MF: Well, one kind of weird thing is, in California, they teach US History in 5th grade and 8th grade, and I teach 6th grade history so I don't even get to use my own resources! So my books aren't relevant to 6th grade history. But I also teach English, last year I taught 8th grade English so I got to infuse some of the US History.
EH: I will always hold firm that you cannot teach English without history. That contextual understanding is so essential to the author and the time it was written in and what it might say. How would you teach British Literature without touching base with Catholicism and the church?
MF: That's one of the things that I like to let people know about the books that I've written. Like the biographies are really great for English classes and then if you are reading a book in any english class that's set during a specific time, then in this one The Major Events in American History, you can check really quickly to get an idea about what's happening in the United States at this time that's informing what's happening to the characters.
Her Dream Project – Rothchild Francis
EH: Do you have books that you haven't written yet? Anything percolating in your brain right now?
MF: My dream is to write a book about a man named Rothchild Francis who was a shoemaker in the U.S. Virgin Islands. It's a very tight little niche there, but I have a TPT resource that no one ever buys based on my Master's thesis.
He was my husband's great-grandfather so family history with US history with global history with the Caribbean and everything. So, someday… I hope someone will find a reason to help me publish a book about a former-shoemaker-turned-Civil-Rights-leader in the early 1900s in the Virgin Islands who traveled to New York. (laughs)
The Magic of Historical Fiction
EH: Let's push in a bit and discuss the historical fiction genre, because I see you read a lot based on your Instagram posts. I was really interested in historical fiction as well when I was little, especially with a different perspective or historical documents that give details into what people might have been like. But I feel like it was only ever geared towards girls, like with Ann Rinaldi and her historical romance. Do you feel like a lot of historical fiction is more geared towards one gender than another?
MF: I know that it was something that I was really into. I liked reading a lot of historical fiction. I think I started with something like Diary of Anne Frank and then I got really into WWII.
I do have quite a few boys who are into it too. There's an author named Joseph Bruchac and he writes a lot of stories from Native American perspective and they're usually during a war. He's got one during WWI, and one during WWII – with codetalkers – and one during the Revolutionary War. So, there are a lot of war ones that a lot of our students really like to read, too.
EH: That's true…it's definitely a topic studied in schools, so it's great to add to the perspective with historical fiction.
Helping Her Students Find that Perfect Book
EH: One of the things I like to talk about is helping kids find their Reading Unicorns – their perfect book at the perfect reading level with perfect content. At LightSail we believe that it exists, but we have to help them find them. How do you go about helping your kids find that right book?
MF: One thing that's really helpful is that I have tons of books, lots of pretty newly-released books in my classroom. One of the perks of blogging and doing social media…I started talking about books online and…so publishers send me books!
One other thing that we do…I like to break my students out of the niche that they get themselves into. Middle school students tend to find series that they like and then they will stay in that series for the whole year. So I have monthly reading themes and post them on my wall.
I give them extra credit if they break out of their traditional reading pathways and offer them some alternative books and also have those books in the classroom or at the school library. So it's accessible to them if they are interested in a book that I've mentioned. They can have it immediately.
EH: That's one of the things that makes LightSail great – you can get the books right away. When I was in the classroom and did Book Talks for kids and getting kids really psyched about these books, and lots of kids would want to check the book out right away, but the library never had enough copies. For voracious readers, like my oldest daughter, LightSail is great because anyone can read any book – 500 kids could check out the same book at the same time. I love that availability.
Book Talks in the Classroom
EH: How do Book Talks go for your kids? I see that you have them do some projects or talks in front of the class. How do you pull those kids out that maybe don't want to talk?
MF: Yes, we had some today, actually. We do them every Friday, so there's quite a bit of choice within it. There's a schedule I post at the beginning of the semester and they can sign up for any date, any Friday throughout the whole semester. They can really present on any book…anything that they're interested in as long as it's somewhat middle school.
They can also get extra credit if they follow that monthly reading theme just to challenge themselves. They have a lot of choices and can just decide what they want to do.
EH: That's so important because I feel like a lot of teachers get stuck in that rut of "this is what we're supposed to read" and then they don't want to branch out ever.
Student choice is so important. I feel like once you take that away, that they just slowly die. They just never want to read again.
MF: One of the negative side effects for me when they do their presentations is that they'll pick these books that I haven't read and I don't have, and I'm just like, "Dang it! I've got to order this on Amazon now!"
EH: I just love that they influence you so much!
Megan's Best Tips for History Teachers
EH: What are your best tips for teachers, then, who might be stuck or for helping them to inspire students – for teaching history to students in a meaningful and purposeful way? How can you make it come alive for kids who are struggling?
MF: One thing that helps me is getting excited myself, so I love to go to…this is super nerdy…
EH: I love nerds!
MF: I live near USC and they have this institute for Chinese history and current events for teachers and you can just go there to hear amazing experts give talks on everything related to Chinese History.
Gilder Lehrman is an organization that does a lot of US history and they do tons of webinars. If you can find something online – there's tons online – where you can find a little bit more about the topic yourself as a teacher, then you just get excited to tell your students about it and find a way to make it more accessible for them after you've learned about it at an adult level.
MF: Learning new things yourself, I think helps keep it exciting for you.
EH: That's amazing advice, and so true! If you aren't excited, how could they be?
Reading at Home with Megan
EH: One of our biggest things at LightSail is that reading shouldn't be a chore. You shouldn't have to fight to get your kids to read. What advice would you have for parents who want to get their kids reading at home, but it's become so much of a struggle or a chore? What advice would you give to parents for encouraging their kids?
MF: Well, my son is five, so he's in a pretty different position than my students, but we have a habit of reading together every night and he's now at the point where I'm trying to get him to read some of the words.
He's already telling me, "No, I just want to read at school. I don't want to read at home." So he already sees a difference!
But he does want to read with me, wants me to read books to him, so I just have to keep chipping away at that attitude where he doesn't want to read at home. It takes a lot of perseverance and just doing it anyway. He whines, and we do it anyway.
EH: We love audiobooks too around here, so sometimes we put them on in the car. Sometimes having it on in the background and sometimes they can have the books and follow along with them. Kids love read aloud. Parents might say, "No, they don't," but they really do!
MF: Yes!
Megan's Must-Read Books for Middle Schoolers
EH: So, I'm going to put you on the spot and ask you to list your top history books that you recommend all the time, that all kids in middle school should read.
MF: Well, there's one that I read recently called The Inquisitor's Tale…
EH: Ooh, that already sounds really good!
MF: It's great! It's by Adam Gidwitz, and it's set in the Middle Ages and I hadn't read historical fiction set during that time period before that wasn't fantasy. Usually it's fantasy. This one has a little bit of fantasy, there's a little bit of magic in it.
But you learn a lot through the book and it's from the perspective of these three different characters: one is a peasant girl, one is Jewish boy, and one is a boy who is at a monastery and his mother was from North Africa and his father is a knight.
So they have these three really interesting perspectives, and you learn all about the church at that time and education at that time and knights and all of this stuff.
EH: Aaaaaand, now I'm adding it to my reading list!
MF: It is SO good. I was very, very impressed. Someone on social media recommended it to me, and I finally got around to picking it up and wished I had read it sooner!
EH: How about any others that you recommend a lot to kids?
MF: I'm looking at my bookshelf. (peering across the classroom)
Stacey Lee is another really great author that writes historical fiction and she always writes from the perspective of a Chinese girl, but she has different books set in during the Gold Rush, or turn of the 20th century Atlanta, on the Titanic. So it's really really interesting books that switch up the lens of a historical time period that you thought you knew about but what about Chinese people during that time? She's great! I love her!
Who else? There are so many! One that's just a classic and it's just really good is Roll of Thunder, Hear My Cry. That whole series – those are just really excellent.
EH: I agree! Love those!
Thank you so much for letting me talk with you about history and books and teaching! I know it's Friday and you need to go put your feet up, but thank you so much for taking the time. Any questions you might have for me?
MF: And any resources that you have for helping my five-year-old! (laughs)
EH: One of the resources we have with LightSail is World Book Early Learners and my littles – ages 3 and 6 – are obsessed with it.
But honestly, just keep reading. If you keep reading to him and maybe track with your finger so he can follow along, then he'll be looking to. Just making them accessible at home is huge.
Just keep reading! If you're reading, he'll want to read too! The same with writing!
Thank you so much for meeting with me and we will encourage everyone to follow you on Instagram @toocoolformiddleschool or check out your website at https://toocoolformiddlesc.wixsite.com/linkinbio.
You can also find Megan on YouTube @toocoolformiddleschoolblog where her video series serve as amazing resources for books of all kinds during different seasons or on relevant topics, and provide a wealth of information for teachers and parents on how to maneuver literacy in your classroom, how to discuss difficult topics, how to connect historical events to current events, and how to spice up the books your children are reading.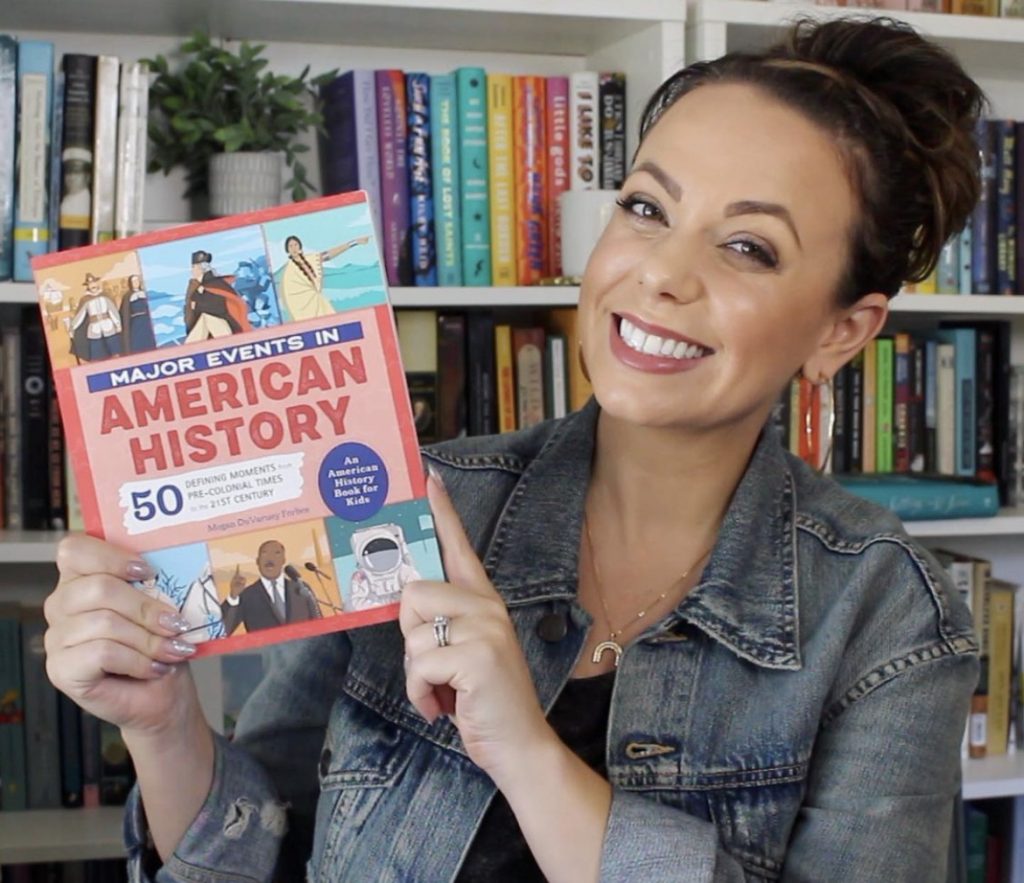 BOOKLIST (available on LightSail)
We Set the Dark on Fire (buy)
Authors
Joseph Bruchac (The Way)
Stacey Lee