Vocabulary
IMPROVE YOUR VOCABULARY WITH LIGHTSAIL!
See how LightSail takes a spiral approach to teaching vocabulary that is both immersive and individualized.
Sign up now
Basic Spelling Rules
Short-Vowel Rule: When one-syllable words have a vowel in the middle, the vowel usually has a short sound. Examples: cat, dog, man, hat, mom, dad, got. If the letter after the vowel is f, l, or s, this letter is often doubled. Examples: staff, ball, pass.
Two-Vowels Together: When two vowels are next to each other, the first vowel is usually long (the sound is the same as the sound of the letter) and the second vowel is silent. Examples: meat, seat, plain, rain, goat, road, lie, pie.
Vowel-Consonant-e Pattern: When a short word, or the last syllable of a longer word, ends in this pattern vowel-consonant-e, then the first vowel is usually long and the e is silent. Examples: place, cake, mice, vote, mute.
Y as a long I: The letter y makes the long sound of i when it comes at the end of a short word that has no other vowel. Examples: cry, try, my, fly, by, hi.
Y as a long E: When y or ey ends a word in an unaccented syllable, the y has the long sound of e. Examples: money, honey, many, key, funny.
I before E: Write i before e when the sound is long e except after the letter c. Examples: relieve, relief, reprieve. When there is a c preceding, then it is ei : receipt, receive, ceiling, deceive, conceive.
E before I: Write e before i when the sound is long a. Examples: weight, freight, reign. Another way to remember this is: "I before e except after c, or when sounding like a as in neighbor and weigh." When the ie/ei combination is not pronounced ee, it is usually spelled ei.
Oi or Oy: Use oi in the middle of a word and use oy at the end of a word. Examples: boil, soil, toil, boy, toy.
Ou or Ow: Use ou in the middle of a word and use ow at the end of words other than those that end in n or d. Examples: mouse, house, found, mount, borrow, row, throw, crow.
Double Consonants: When b, d, g, m, n, or p appear after a short vowel in a word with two syllables, double the consonant. Examples: rabbit, manner, dagger, banner, drummer.
The ch sound: At the beginning of a word, use ch. At the end of a word, use tch. When the ch sound is followed by ure or ion, use t. Examples: choose, champ, watch, catch, picture, rapture.
All 220 Dolch words by grade in frequency order
Pre-Primer
Primer
First Grade
Second Grade
Third Grade
the
one
he
now
of
take
would
write
if
full
to
my
was
no
his
every
very
always
long
done
and
me
that
came
had
old
your
made
about
light
a
big
she
ride
him
by
its
gave
got
pick
I
come
on
into
her
after
around
us
six
hurt
you
blue
they
good
some
think
don't
buy
never
cut
it
red
but
want
as
let
right
those
seven
kind
in
where
at
too
then
going
green
use
eight
fall
said
jump
with
pretty
could
walk
their
fast
today
carry
for
away
all
four
when
again
call
pull
myself
small
up
here
there
saw
were
may
sleep
both
much
own
look
help
out
well
them
stop
five
sit
keep
show
is
make
be
ran
ask
fly
wash
which
try
hot
go
yellow
have
brown
an
round
or
read
start
far
we
two
am
eat
over
give
before
why
ten
draw
little
play
do
who
just
once
been
found
bring
clean
down
run
did
new
from
open
off
because
drink
grow
can
find
what
must
any
has
cold
best
only
together
see
three
so
black
how
live
tell
upon
better
shall
not
funny
get
white
know
thank
work
these
hold
laugh
like
soon
put
first
sing
warm
this
our
does
wish
will
ate
goes
many
yes
say
went
under
are
please
http://www.dolchword.net/

🎉 Correct Answer!
You are absolutly right!
Keep going!

Incorrect Answer!
Don't Give Up and Try Again!


Features that make us great!
From parental controls to one-of-a-kind tools for struggling readers, come see the more than 100 features that make LightSail a complete language arts solution.
Vocabulary Assignment
Helps children acquire new words and their meanings with a multifaceted approach
Provides a list of words with questions about each, like asking them to define the word, use it in a sentence, or name its parts of speech
Parents can choose from a variety of premade word lists or make their own
Prescripted questions are provided, or parents can be creative with their own questions
Perfect for reviewing vocabulary lists from other subjects
Quick and easy grading with simple "correct," "incorrect," or "half correct" responses
Parents can also add written or recorded feedback
Gamification features apply – children earn fun and motivational badges for successful completion
. . .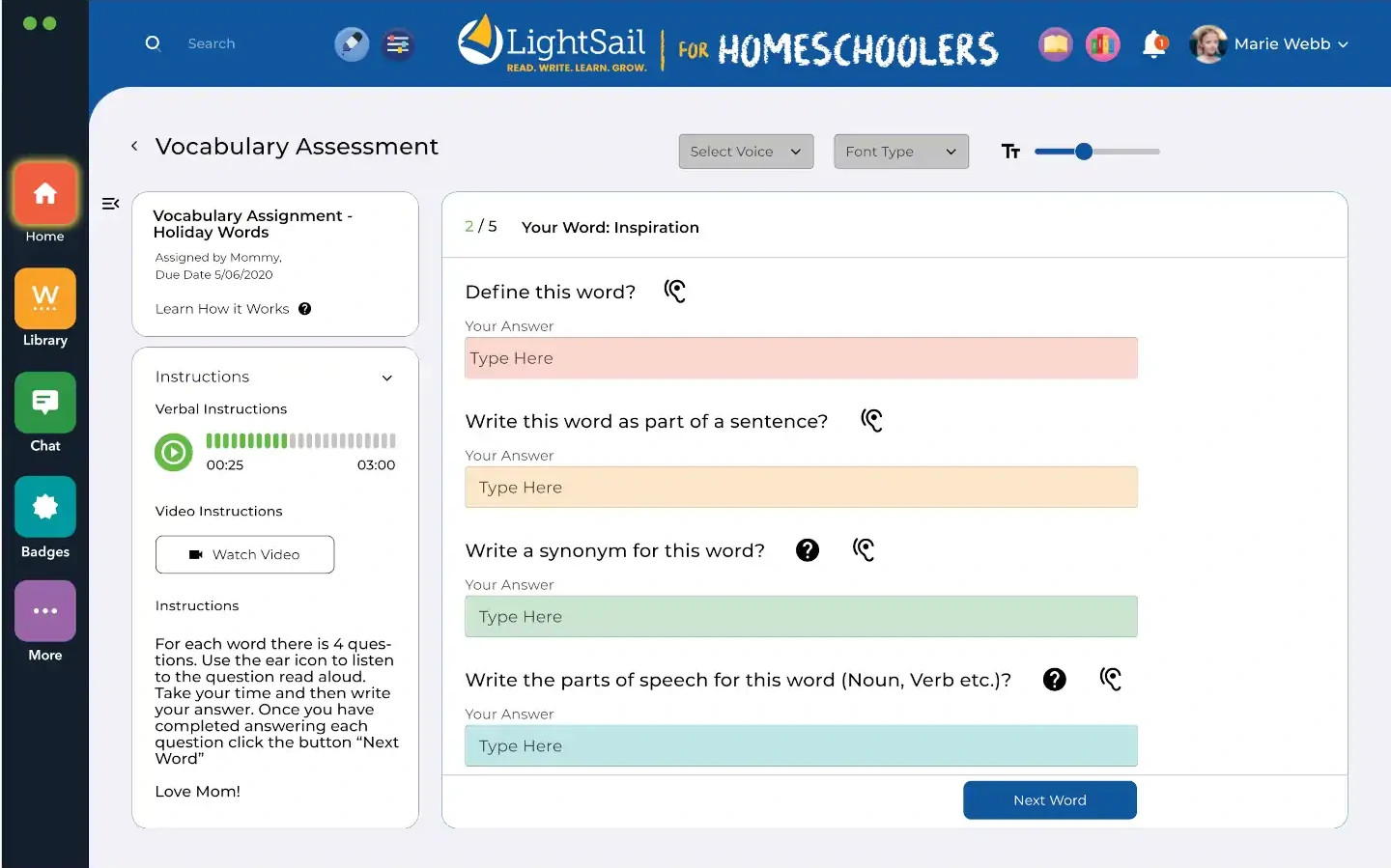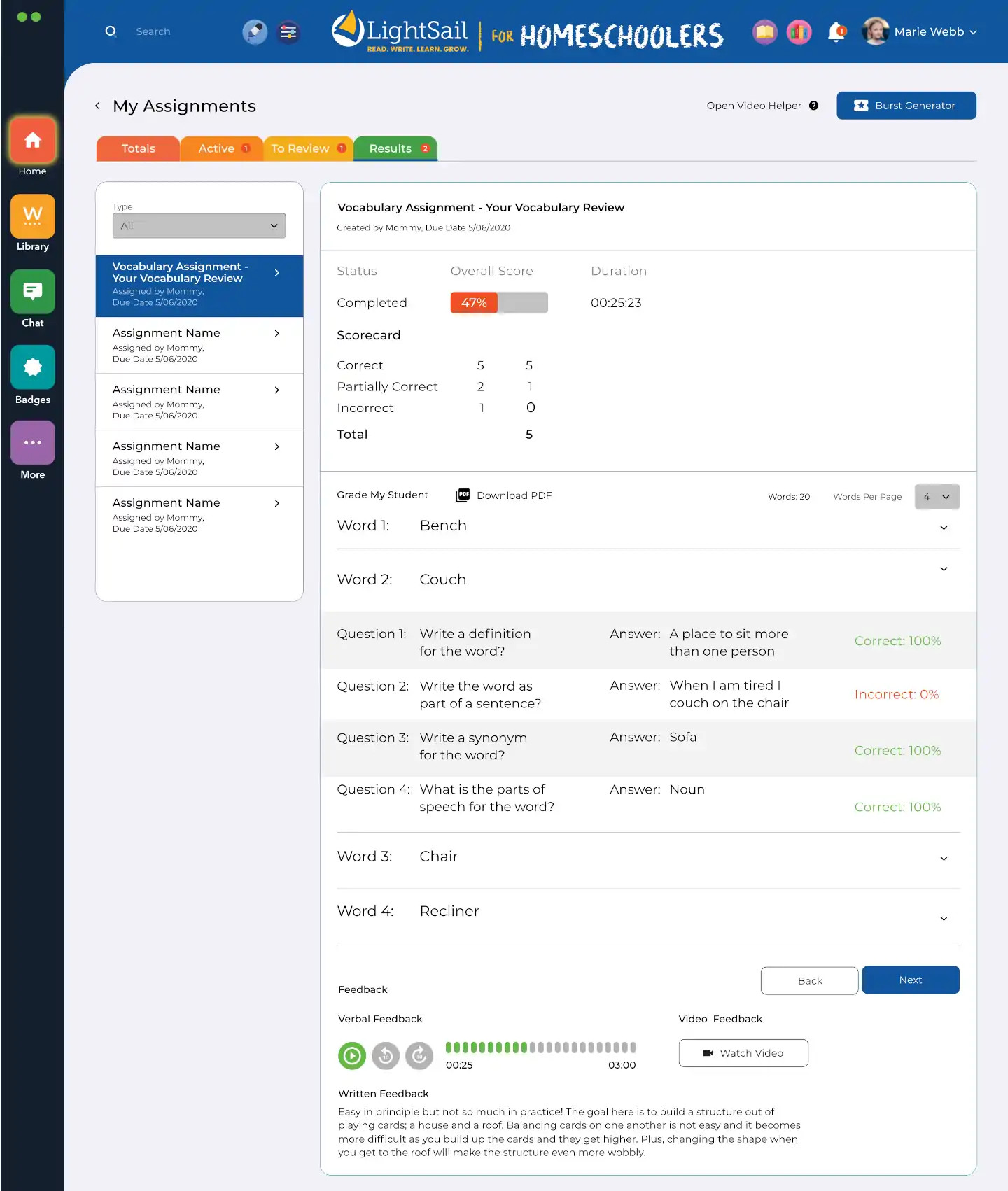 Word Work
Provides targeted practice and additional support in problem areas
Ensures children aren't senselessly practicing mastered knowledge
Gives children an opportunity to retake missed vocabulary and spelling words to improve their score
Offers children a word tree, picture clue, definition, examples, synonyms, and translations for each missed word
Includes badges and other fun gamification features
. . .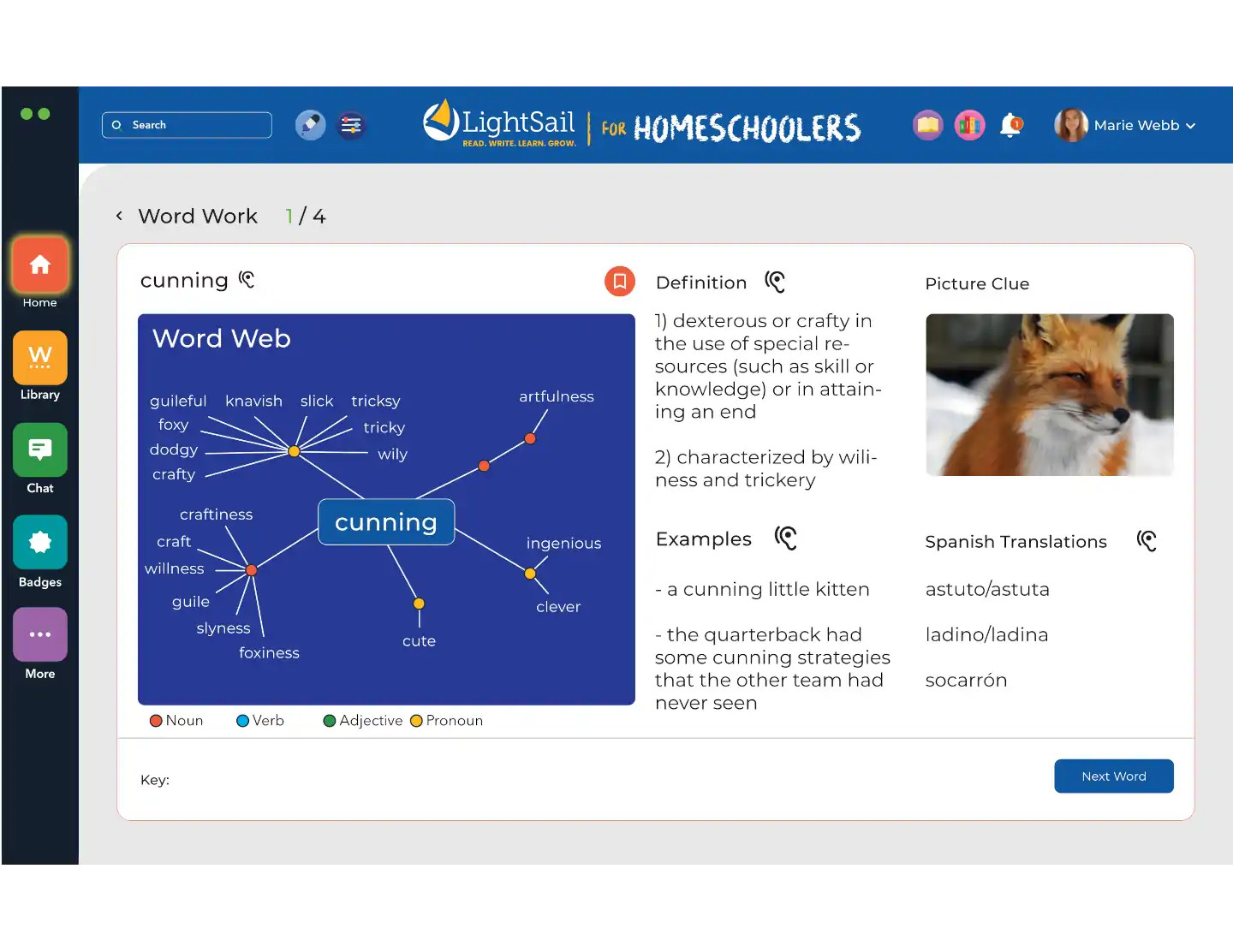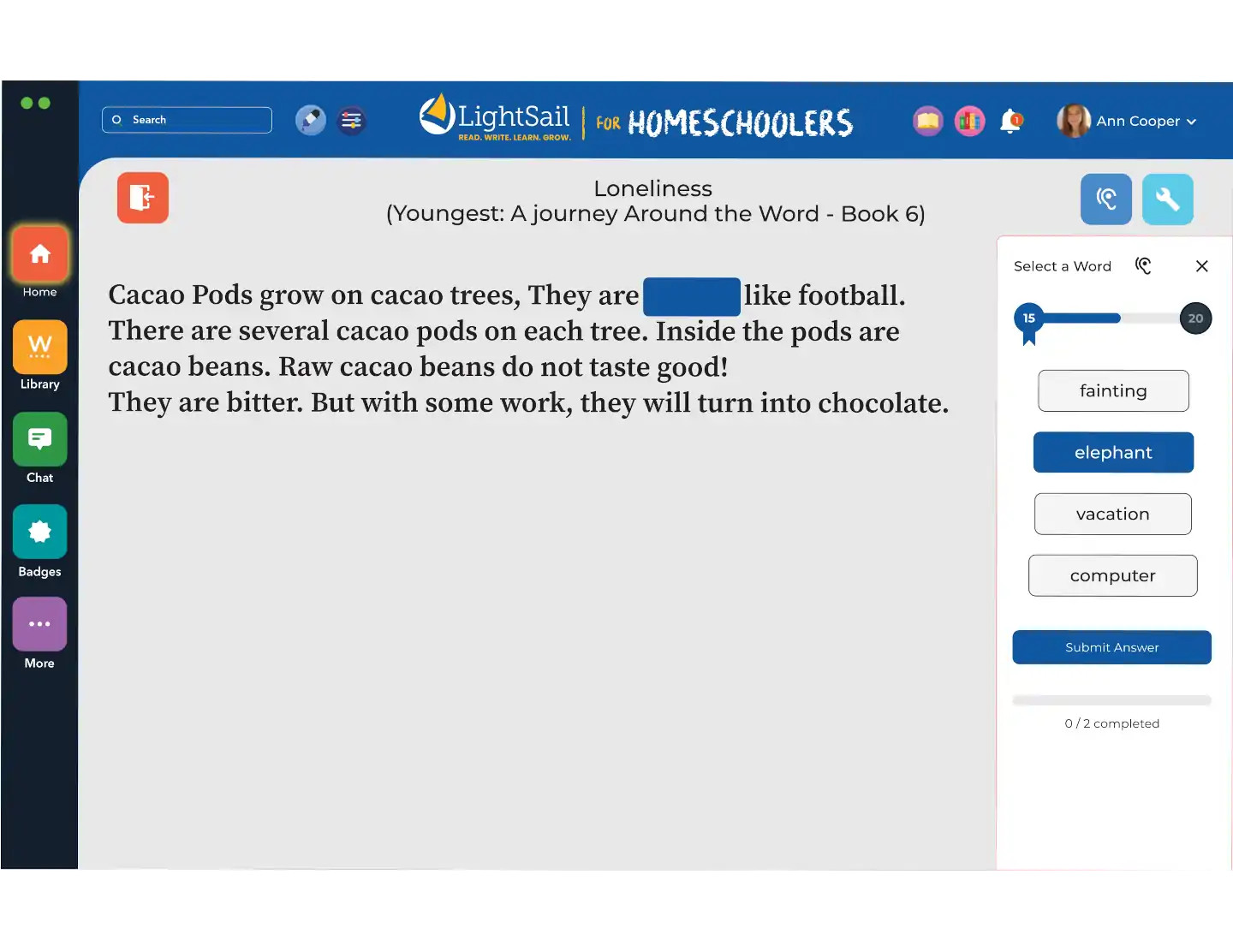 Spelling Bee
Assigns words at a child's precise Lexile® level
Automatically graded by LightSail
Adjusts to child's ability as they progress
Provides parents with multiple word lists to build their own assignments
Builds phonemic awareness and vocabulary skills
Identifies problem areas and provides targeted practice
Includes badges and other fun gamification features
. . .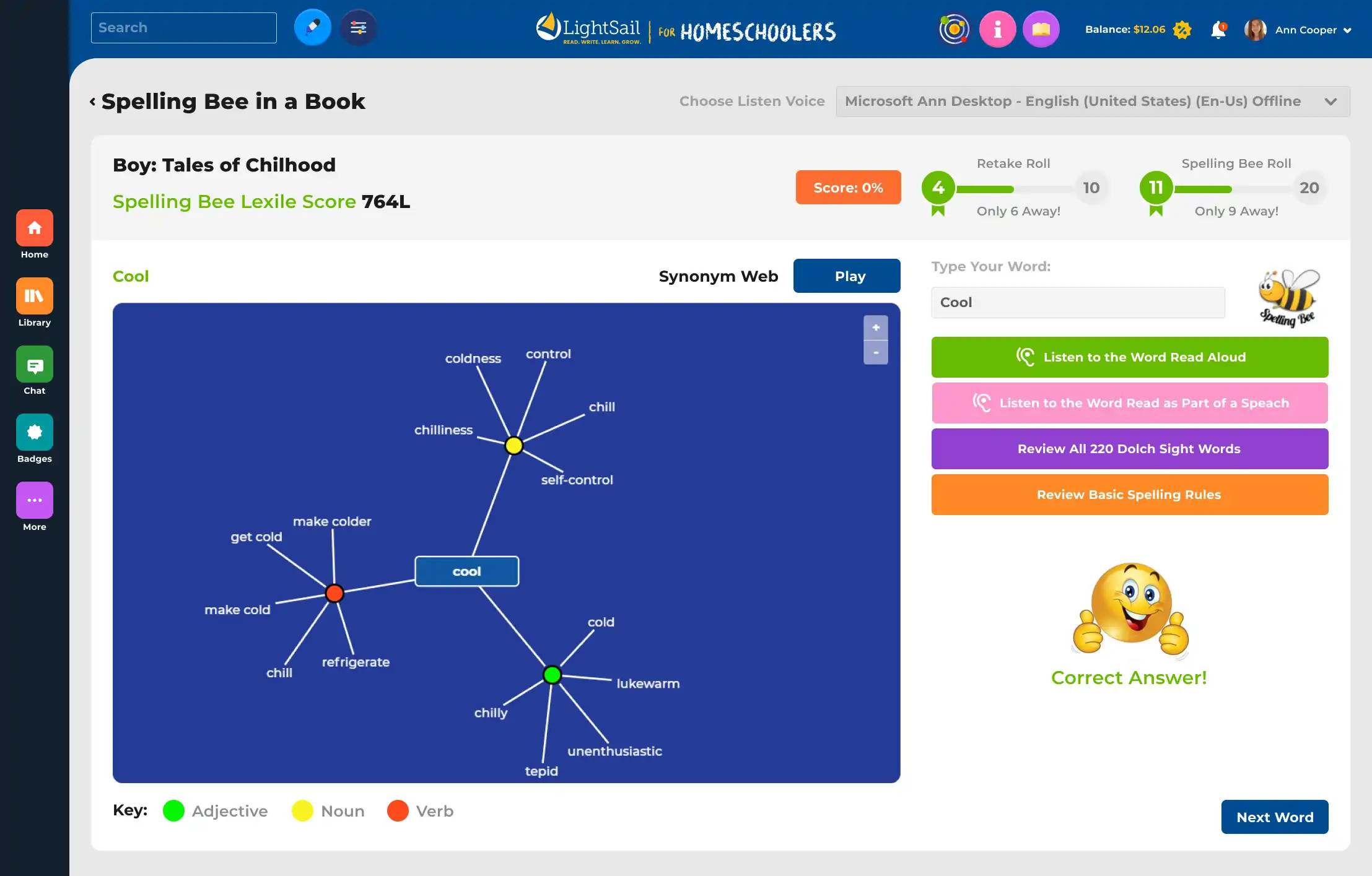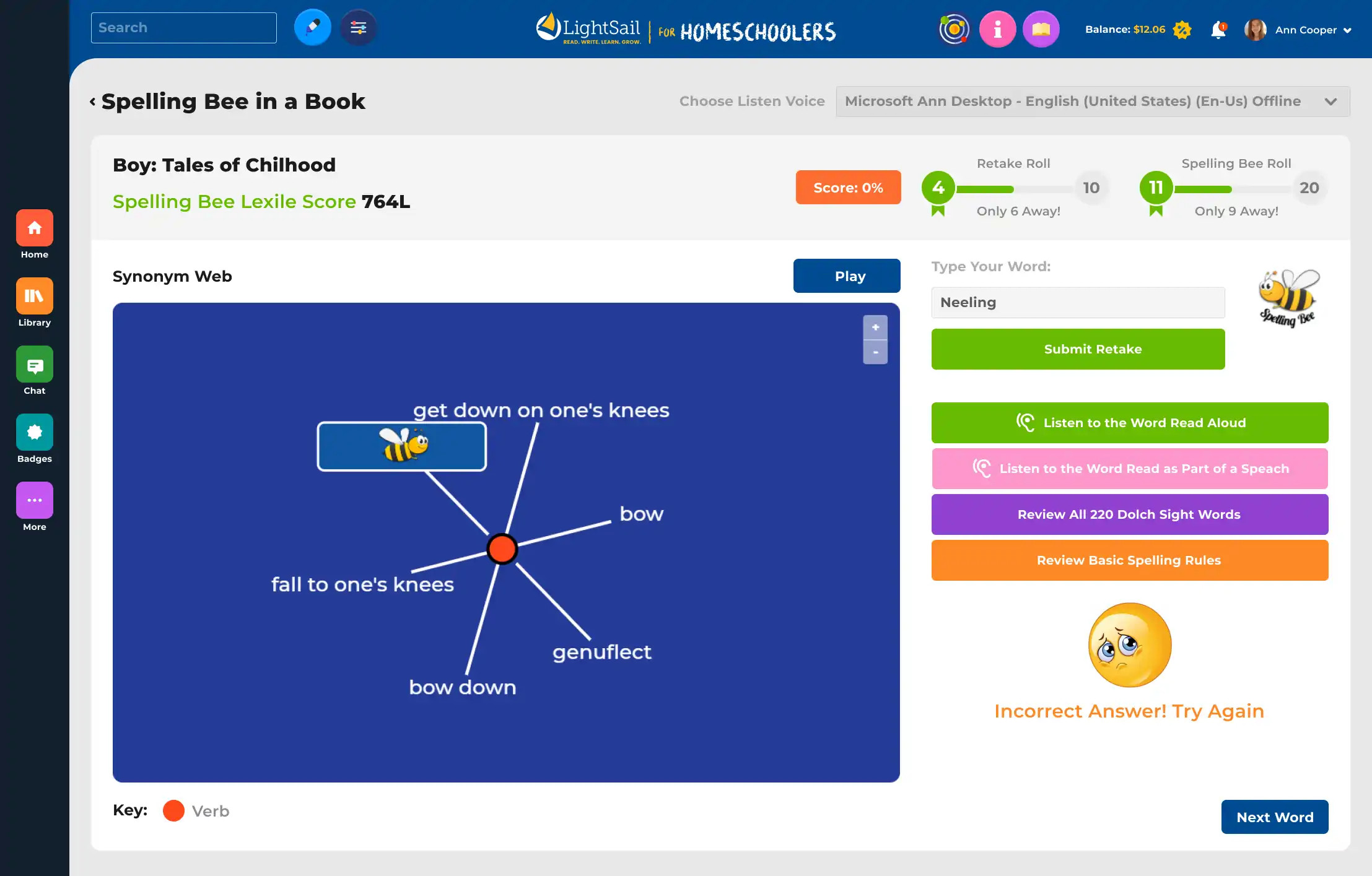 Learn how LightSail's library is tailored to your child's reading level!
Our Approach
LightSail offers a wide range of writing modules to guide children, step by step, through different types of writing scenarios, all tailored specifically to a child's ability and interests.
Grading
Take the mystery and headache out of grading. LightSail provides automated grading for many assessments, pre-made grading rubrics, and grading guidance and samples from highly experienced teachers.
Social Media
In this digitally connected world, children love the motivation and encouragement they get from letting their friends and family celebrate their accomplishments and cheer on their progress.
Assignment Module
A comprehensive assignment module covering our four pillars of literacy: reading, writing, vocabulary, and fluency.




Learn how LightSail uses
Gamification
Motivate children to read and write by incorporating fun challenges and rewards.
Buy one
For every LightSail subscription you purchase for your family . . .
Donate one
. . . the LightSail Foundation will match it and donate a subscription to the charity you select.
Our 90 day money back guarantee
30 Minutes a Day + 5 Days a Week + 3 Months = GUARANTEE your child's independent reading level will improve.*
We're here to help!
Find answers to frequently asked questions or contact us for more support.
How many parent accounts are included with a child's license?
Every family account includes two Parent Accounts.
I am part of a homeschool group and we share teaching responsibilities. How can I access those accounts?
LightSail has created a Teacher/Coach role that can connect with multiple accounts. This is available as an add-on purchase. This account acts as additional parent with full teacher control to all connected accounts.
Is your platform only Faith-Based?
LightSail is available for both Faith-Based and Secular families. A parent can choose to allow or hide faith-based content including Unit Studies. LightSail has created hundreds of faith-based Unit Studies, Bookmarks, Quotations, and Memory Modules.
If I want to purchase a book with your Premium Books Shop, do I have to buy a copy for each license I purchased?
No, when you purchase a book using our Premium Books Shop, you only need to purchase one copy for your entire family. Your purchase includes unlimited checkouts.
How does LightSail's ChildSafe protection work?
At LightSail, a parent's ability to oversee their child's online experience and align it with their faith and values is of the utmost importance. To this end, LightSail contains an entire suite of parental control features and never-before-seen ChildSafe Content Controls giving parents ultimate peace of mind.
These content controls contain dozens of nuanced subcategories for potentially objectionable material based on both maturity and religious factors. Then, it shows parents if a book contains a reference to any of those subcategories and allows them to block or allow single titles or entire subcategories for each child individually. Our ChildSafe Content Controls offer unprecedented insight into and control over the content your children consume without the need to read every book in advance.
Block or allow individual pieces of content.
Block or allow entire subcategories of content.
Require a child to request parental approval before opening entire subcategories of content.
Block, allow, or require requesting parental approval for all Classics library content.
Block or require requesting parental approval for all unrated content.
Click here to learn more about all of our parental controls.
Chat with Support or call
+1 866-876-7323
About Us
We are LightSail for Homeschoolers—a complete language arts platform built on the shoulders of LightSail Education, advancing the literacy skills of K-12 students in public, private, and charter schools since 2012.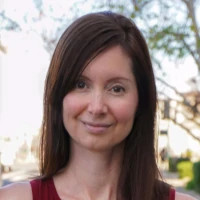 Hi, I'm Vida Mercer, a second-generation homeschooling mom. The single best thing my parents ever did for me was to make the decision to homeschool. Now, I homeschool my own daughters and help others do the same. Homeschooling at its best is about customizing each child's education specifically for them. Join me as I walk you through how LightSail does exactly that. I can't wait to meet you in our Facebook group especially for homeschooling parents!
Contact us