Early Learners (PreK)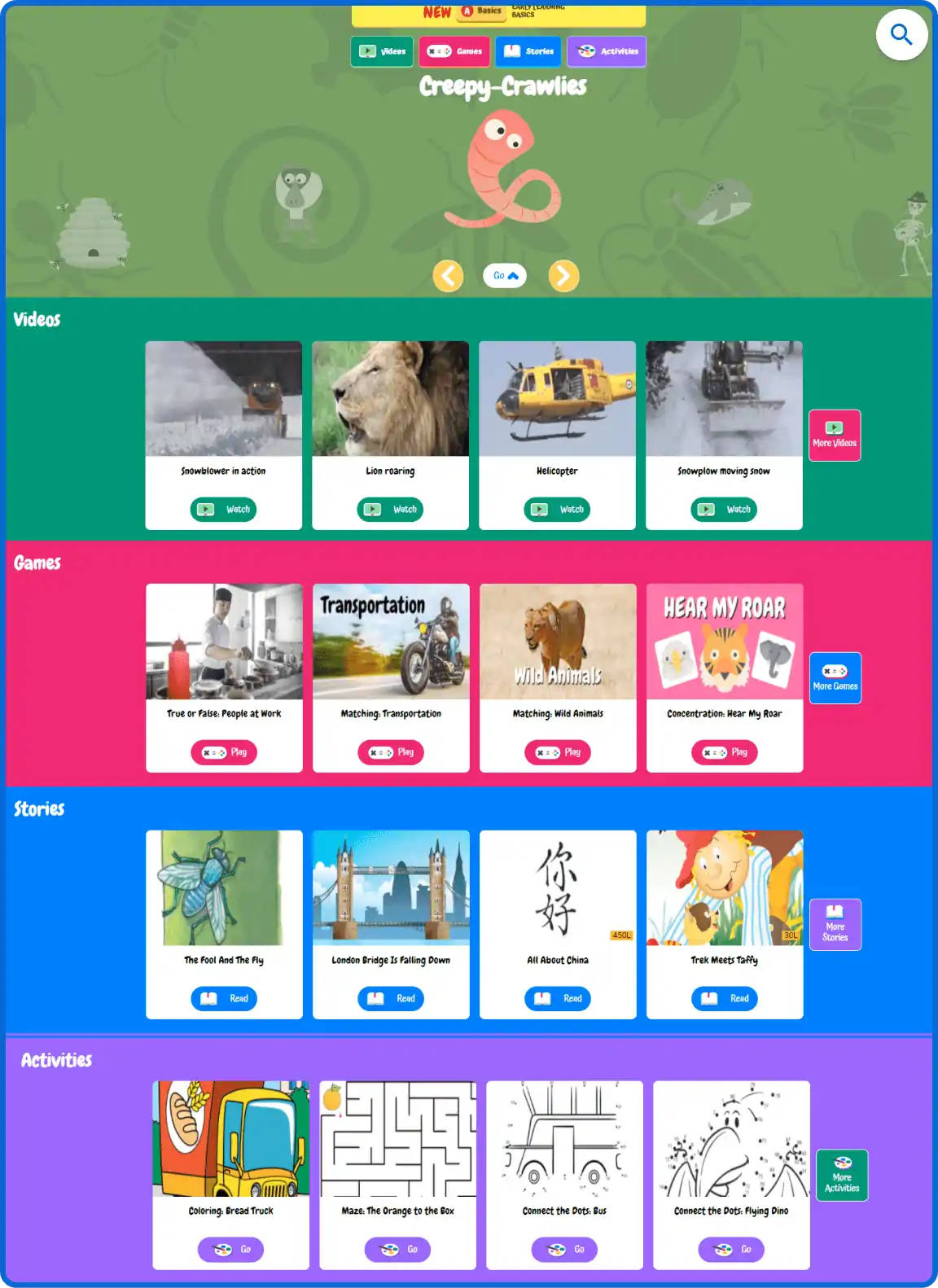 Early Learning
Hundreds of engaging and educational videos for young ones that are categorized by subject and designed to provide visual, real-world examples of high-interest topics.
Hundreds of educational games and activities that build knowledge and skills, including printables like mazes and dot-to-dot pages, that provide hands-on practice developing fine motor and pre-writing skills, plus online games, like paint-by-number, concentration, alphabet tracing, and more that develop technology skills while children play and learn.
Hundreds of stories for young children that are both narrated and have text highlighting to help children build reading skills. These stories are grouped into a wide variety of familiar categories young kids love, like creepy crawlies, wild animals, people at work, and weather, and all contain beautiful photographs or illustrations to enhance the text.
Dozens of art and drawing activities, both printable and online, that allow children to unleash their creativity and color dinosaurs, flowers, birds, and more or create their own masterpieces.
100+ GAMES
The number of games played each minute
360K VIDEOS
The number of videos watched each month
15K BOOKS
The number of Early World of learning stories read each day
LightSail has interactive, educational content beginning from the preschool years. Through our partnership with World Book, we provide you with Early Learning resources.
These learning games entertain your child as they build foundational skills. Within Early Learning resources, LightSail provides read aloud capabilities while using intuitive icons so that your pre-reader can navigate and learn independently.
Videos are categorized by subject and designed to provide visual, real-world examples of high-interest topics.
From Paint-by-Numbers to Concentration, the games and activities reinforce foundational concepts through play.
Narrated stories spread across a range of Lexile levels expose early and emergent readers to a wide variety of concepts and vocabulary. Then, children are guided to related games to strengthen their understanding of what they just read. Borrowed and adapted with pride from World Book Digimag.
Read our Blog & Follow Us on Social Media
FOR TIPS AND TRICKS!
Our 90 day money back guarantee
30 Minutes a Day + 5 Days a Week + 3 Months = GUARANTEE your child's independent reading level will improve.*
We're here to help!
Find answers to frequently asked questions or contact us for more support.
How many parent accounts are included with a child's license?
Every family account includes two Parent Accounts.
I am part of a homeschool group and we share teaching responsibilities. How can I access those accounts?
LightSail has created a Teacher/Coach role that can connect with multiple accounts. This is available as an add-on purchase. This account acts as additional parent with full teacher control to all connected accounts.
Is your platform only Faith-Based?
LightSail is available for both Faith-Based and Secular families. A parent can choose to allow or hide faith-based content including Unit Studies. LightSail has created hundreds of faith-based Unit Studies, Bookmarks, Quotations, and Memory Modules.
If I want to purchase a book with your Premium Books Shop, do I have to buy a copy for each license I purchased?
No, when you purchase a book using our Premium Books Shop, you only need to purchase one copy for your entire family. Your purchase includes unlimited checkouts.
How does LightSail's ChildSafe protection work?
At LightSail, a parent's ability to oversee their child's online experience and align it with their faith and values is of the utmost importance. To this end, LightSail contains an entire suite of parental control features and never-before-seen ChildSafe Content Controls giving parents ultimate peace of mind.
These content controls contain dozens of nuanced subcategories for potentially objectionable material based on both maturity and religious factors. Then, it shows parents if a book contains a reference to any of those subcategories and allows them to block or allow single titles or entire subcategories for each child individually. Our ChildSafe Content Controls offer unprecedented insight into and control over the content your children consume without the need to read every book in advance.
Block or allow individual pieces of content.
Block or allow entire subcategories of content.
Require a child to request parental approval before opening entire subcategories of content.
Block, allow, or require requesting parental approval for all Classics library content.
Block or require requesting parental approval for all unrated content.
Click here to learn more about all of our parental controls.