Taking the plunge into homeschooling can feel intimidating. From lesson plans to curriculum choices to compliance with state laws, it can feel like there is a lot to coordinate. However, understanding state homeschool requirements brings families one step closer to enjoying the freedom that homeschooling affords. In Maine, parents have two options for homeschooling their children: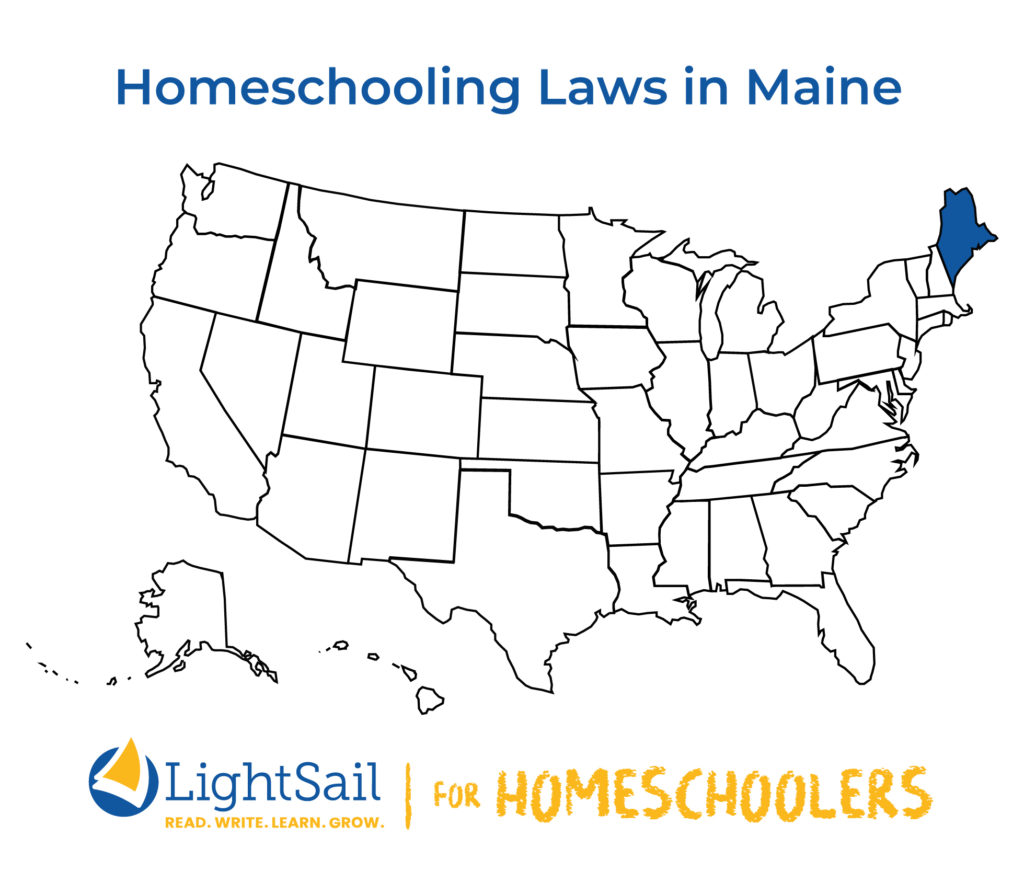 Parents may homeschool under Maine's home instruction option.
Parents may join with other families to function as a private school.
Maine Homeschool Mandates for Option 1
Maine compulsory attendance laws require children to be in school from ages 6 through 17. Students who graduate early, attend college full-time with approval of the Education Commissioner, or obtain a release from the school board may be excused from school attendance before the age of 17. Check with the Department of Education for current guidelines on immunizations in the state of Maine.
Under the home education law (option 1), parents must:
File a one-time initial notice of intent to homeschool containing required information.
File an annual letter of intent to continue homeschooling along with year-end student assessments by September 1.
Teach the required subjects.
Teach for 175 days annually.
Submit their students to an annual assessment.
Required subjects in Maine include:
English language arts
Math
Social Studies
Science
Physical Education
Health
Library skills
Fine arts
Maine studies (one year between grades 6-12)
Computer proficiency (one year between grades 7-12)
Options for annual year-end assessments include:
National standardized achievement tests
Testing by local school officials
A letter of evaluation by a certified Maine teacher or advisory board
How to Withdraw Your Child from School in Maine
If your children currently attend a public or private school, you will need to withdraw them to homeschool. In many cases, sending a withdrawal letter by certified mail to your school district will suffice.
Special Education Provisions
Maine has no additional requirements for parents wishing to homeschool their special needs children. Additionally, the Maine Department of Education does not provide homeschool students with special education services unless they also take public school classes. Meanwhile, students enrolled in a Recognized As Public School (REPS) have the same access to special ed services as other private school students.
Record Keeping
Maine requires homeschool parents to keep records of their:
Initial notice of intent to homeschool
Annual letter
Student year-end assessments
In addition, it is wise to keep a file for each student containing:
Attendance records
Information on subjects taught and curriculum used
School district correspondence, including forms filed
Immunizations
Samples of student work
Standardized test scores and evaluations
With a clear understanding of Maine homeschool laws and the wide availability of resources, homeschooling doesn't have to feel overwhelming. LightSail's comprehensive language arts platform provides children with the tools to grow reading, writing, and vocabulary skills. At the same time, LightSail's built-in assessments and progress-tracking capabilities give parents peace of mind about meeting Maine's homeschool requirements.
Disclaimer: This information is for educational purposes only. It is not legal advice. State laws are constantly changing. Consult an attorney or call your state's Department of Education for any questions regarding the legalities of homeschooling.
Homeschooling laws – All states